I study children's mental health — the ways that trauma and stress exposure adversely impact children's mental health. Spoiler alert: it's not good.
When children are exposed to trauma, particularly very young children, they are likely to experience multiple kinds of stressors, their parents and other caregivers are often simultaneously under the same set of stressors; and the stress children experience impacts developmental outcomes that drive the development of persistent mental health problems over the lifespan.
Knowing what we do about trauma and stress, a global pandemic seemed like the perfect time to study … joy.
The pandemic brought me a working partnership with Dr. Lauren Mims, an educational psychologist and professor at Ball State. Together, we asked what makes children and their families strong, and she introduced me to a world of knowledge about Black joy. Dr. Mims brought two key assets to our partnership: her personal experience as a Black woman and her professional expertise in educational psychology and children's development.
We shared the scientific view that knowledge about mental health is lacking and bolstering it requires "citing the streets" (her term) rather than staying holed up in the ivory tower.

We look so long at what breaks people, that we fail to understand the ways that people flourish, thrive and persevere. A fractured, burning world made us ready to question it all, including those scientific axioms we held so dear. It was time to discover joy.
Only we didn't actually discover anything. There is a rich discourse about joy and specifically Black Joy that exists outside academia. See #TheBlackJoyProject and #CareFreeBlackKids.
In We Want to do More than Survive, Dr. Bettina Love, Professor of Education at the University of Georgia, explains:
There is joy and then there is Black joy. Both are necessary for justice; however, Black joy is often misunderstood. Black joy is to embrace your full humanity, as the world tells you that you are disposable and that you do not matter … Black joy is understanding and recognizing that as a dark person you come with grit and zest because you come from survivors who pushed their bodies and minds to the limits for you to one day thrive.
Dr. Love also writes:
I am talking about joy that originates in resistance, joy that is discovered in making a way out of no way, joy that is uncovered when you know how to love yourself and others, joy that comes from releasing pain, joy that is generated in music and art that puts words and/or images to your life's greatest challenges and pleasures, joy in teaching from a place of resistance, agitation, purpose, justice, love, and mattering.
Before I move on to my journey looking inward at my own cultural understanding of joy, I must say this: cultivating joy is an act of antiracism. That bears repeating. Cultivating joy is an act of antiracism. White readers, making space for and amplifying representation of Black joy serves the pursuit of a just society.
What have I learned about joy inside of my own cultural experiences? Joy exists easily in celebration — an exuberant hora, the joy (and relief) when a Bat Mitzvah completes her chanting, a grape juice mustache on Shabbat.
There is schtick that every Jewish holiday goes, "Some group of people hated us and wanted us dead. We persevered. Now we eat." We speak about this perseverance in every age as divine. Here, from the V'hi She-am'adah in the Haggadah, "And it is this (the Torah) that has stood by our ancestors and for us. For not only one (enemy) has risen up against us to destroy us, but in every generation they rise up to destroy us. But the Holy One, Blessed be He, delivers us from their hands."
Our joy is implicitly wrapped up in becoming a nation devoted to one G-d. Modern day Jewish philosophers have thought about joy as central to our faith. Rabbi Heschel is quoted:
"People of our time are losing the power of celebration. Instead of celebrating we seek to be amused or entertained. Celebration is an active state, an act of expressing reverence or appreciation. To be entertained is a passive state — it is to receive pleasure afforded by an amusing act or a spectacle ... Celebration is a confrontation, giving attention to the transcendent meaning of one's actions."
Is Jewish joy resistance, too? Black joy repels a world that would treat them as disposable. To similar forces that paint us as villainous, Jewish joy — active, spontaneous, shared — lets us experience and explore the full range of our humanity.
I lead Shivah minyans for my Temple community. In the middle of each service, families share stories about their loved ones. We hear about Bubbe's kindness and generosity, Uncle Joe's favorite hobbies, and Dad's career achievements. But also … we laugh together about the times (plural) Bubbe nearly burned the house down trying to make Shabbos brisket, the wild stories of Uncle Joe's pranks, and the terrible jokes Dad told over and over, of course.
We laugh. The laughter and tears — the joy and the grief — are not at odds. They are companions, they are a unified emotion and the only one that makes sense when you celebrate a life for which you grieve the loss.
I might describe my own last year that way. I had a life I loved before March 13, 2020, and to fully love it means to also grieve its loss. We loved what we had. We accept what we have and feel grateful for what is there to catch and comfort us. I choose joy in moments with and without Jewish ritual, but I feel my Jewish identity flourishing in spaces of intentional joy when I write my own life without letting external, oppressive forces solely define my identity and experiences. There, I find meaning in thought and action.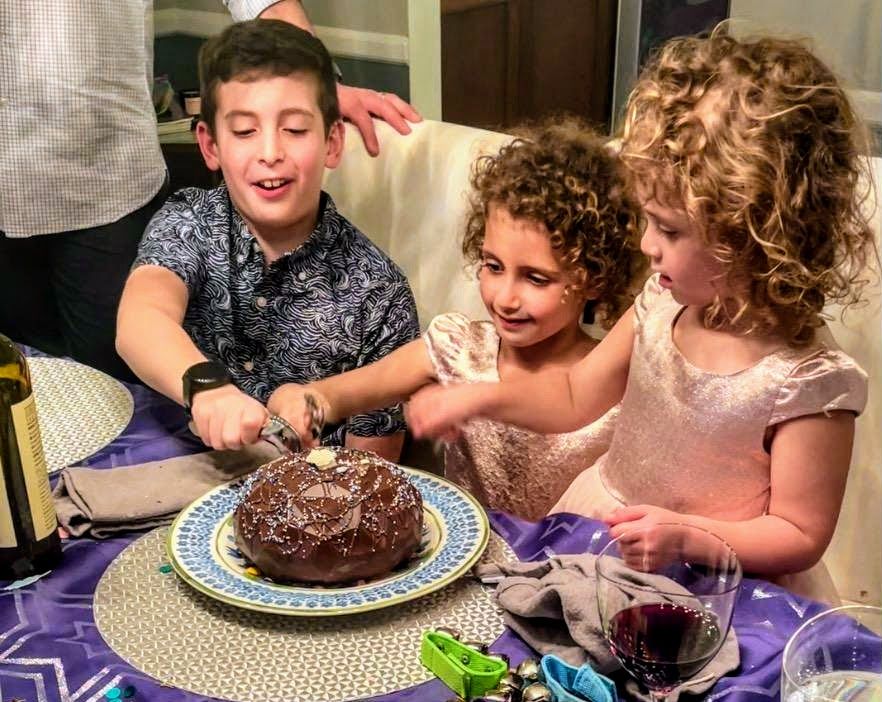 Dr. Mims and I are currently studying the power of joy for families to flourish amidst the backdrop of stress. Spoiler alert: it's good. In the presence of joy, parents' depression is lower and positive parenting practices are more common.
This work has improved my capacity to be a co-conspirator to the Black community — to recognize and honor Black joy. I wonder, when our communities convene, is it limited to sharing pain, or are we prepared to share joy? True deliverance will see us joyful within our tribes and joyous without boundary.
Continuing to wonder about Jewish joy — its collective power in ritual, in family, in community — strengthens my faith and connection to Judaism, past, present and future.
---
Erika Bocknek, PhD, LMFT is Associate Professor of Educational Psychology at Wayne State University. She is Associate Editor of the Infant Mental Health Journal and serves on the editorial boards of the journals Infancy and Adversity and Resilience Science. Her writing has appeared in academic journals, including Child Development and the Journal of Marriage and Family Therapy, and in popular media, including PBS Newshour, Marketwatch, and the San Francisco Chronicle.  She currently serves on the boards of Brilliant Detroit and the Coalition for Jewish and Black Unity.