May 17 marks the International Day Against Homophobia, Biphobia and Transphobia. This year, the Michigan Legislature will have its own reckoning, decades in the making, on whether to embrace the LGBTQ community in our state.
It started in 1976, when Democratic Rep. Daisy Elliott and Republican Rep. Mel Larsen came together to create a civil rights act in Michigan that outlawed discrimination based on religion, race, color, national origin, age, sex, height, weight, familial status or marital status.
That landmark law states that if someone faces discrimination in their employment, housing or publicly available services in Michigan – and they have proof that their status in one of those protected classes is the reason for this discrimination – they can submit that evidence to the Michigan Civil Rights Commission to be investigated and to seek remedies.
This act has curbed instances of discrimination against these protected classes for more than forty years. And for forty years, LGBTQ activists have campaigned to add sexual orientation and gender identity to those protected classes.
The Civil Rights Commission itself issued a report affirming "All available evidence shows that discrimination based on sexual orientation or gender identity/expression, (1) exists and is significant, (2) is protected in other states, but not in Michigan, which (3) has direct negative economic effects on Michigan."
While a Supreme Court ruling from last year extended federal employment protections to LGBTQ people – from a conservative court, no less – we still must take state action to extend Elliott-Larsen's full workplace, housing and public accommodation protections to the LGBTQ community here in Michigan.
I am the first openly gay person ever elected to the Michigan Senate. Earlier this year, with the support of Governor Gretchen Whitmer, I re-introduced my legislation to amend the Elliott-Larsen Civil Rights Act to include these discrimination protections for gay, bi and trans Michiganders.
I have been proud to provide the space during my six years in the legislature for countless thoughtful, engaging and enlightening conversations with many people across the aisle – some of them having never discussed the issue. Now we are finding growing support for our efforts. For the first time, a Senate Republican has joined all Senate Democrats in co-sponsoring this legislation.
At the same time, the Secretary of State is reviewing petitions signed by nearly 500,000 Michigan voters in support of a ballot proposal that would achieve the same goal.
Yet Republican leadership has shown little interest in passing my legislation. They have never even supported my perennial (symbolic) resolution to declare June as LGBTQ Pride Month. But when these petitions are certified, the Legislature will have no choice but to make one of three decisions with them: vote to enact the petition language into law, send the proposal to the ballot for voters to decide, or send it to the ballot with a countering proposal.
Polls show most Michiganders want us to enact these protections. But the Republican-led legislature could send the proposal to the ballot and place alongside it a competing GOP-proposal that includes sweeping religious exemptions to those protections, in which case Michigan voters would have to choose one proposal or the other.
I fully reject the premise that religion should be used as a license to discriminate. Those with "sincerely-held religious beliefs" have long been protected within their respective religious institutions – but adherents of a religion are still required to follow neutral, generally applicable laws.
And as the only Jewish State Senator, I've always been confounded why government would only allow religion to deny LGBTQ rights, but never to affirm them. Michigan's Constitution banned same-sex unions from 2004 to 2015, for example; many rabbis upheld the dignity of LGBTQ Jews and officiated same-sex weddings even as the state refused to recognize them. Where was government respect for our sincerely-held religious beliefs during this time?
Senate Republican leadership retains substantial authority on how things proceed. They know what the polling says. And they know me well enough to know I will continue to be on the frontlines working toward enacting these solutions to dismantle discrimination based on homophobia, biphobia and transphobia.
The legislation I introduced is shaped by my values as a gay person and as a Jewish person. I believe it also reflects Michigan values: of decency, of kindness, of respect toward one another. If you would not fire or evict or deny someone services because they are LGBTQ, then this is your values statement too. It requires nothing more of you.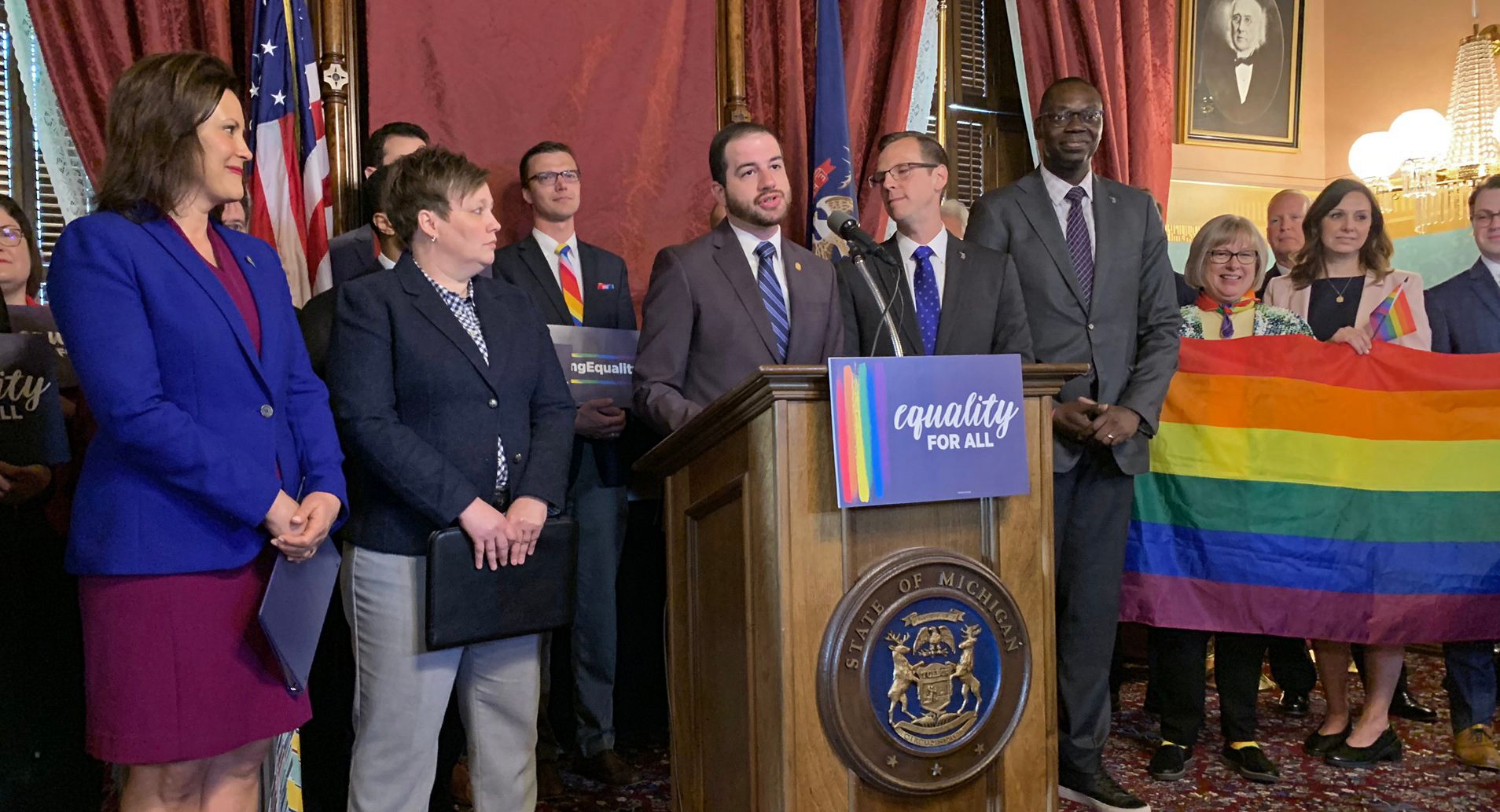 ---
Jeremy Moss is the currently represents the 11th State Senate District, which includes Farmington, Farmington Hills, Ferndale, Hazel Park, Huntington Woods, Lathrup Village, Madison Heights, Oak Park, Pleasant Ridge, Royal Oak Township and Southfield. Prior to his election to the Michigan Senate, he served in the Michigan House of Representatives from 2014 - 2018 and as the youngest-ever member of the Southfield City Council. He is a Hillel Day School alumnus.