This story originally appeared in The Insider.
---
Two years delayed by the pandemic, the Oak Park High School Class of 1970 gathered last month for its 50th reunion. (We're also all 70!) It was truly a collective feeling of home, warmth, freedom and of shared childhood experiences. No bull. We all knew where we came from.
When I returned home to California, my family asked me what the highlight was. It wasn't one person or one event — it was that sense of belonging to people from my past, rooted forever in all of our hearts.
My reunion weekend began with a check-in at a new neighborhood hotel. What? My goodness, this was the first time in my hometown where I didn't have a home. A weird feeling indeed. The days unfolded with gatherings, big and small, at friends' homes, restaurants, bars and, of course, the big event Saturday night at Glen Oaks Country Club. The smaller groups allowed for real visiting beyond where do you live now, do you still work, where are your children and grandchildren, and — here's the one you want to ask but don't — what ailments or conditions are you suffering from? A real can of worms!
Besides seeing old friends and acquaintances, I was able to stop in at some of my favorite food haunts. One can't visit suburban Detroit without a meal at the Jewish delis — Pickles & Rye and The Stage Deli for a corned beef sandwich, cheese blintzes or potato latkes. I also dropped by Diamond Bakery to get the best rye bread in the country (sorry California, yours just doesn't compare.) I brought a loaf back to my husband along with a 7-layer cake.
I spent one afternoon and evening at my friend Mitch's house with a group of about a dozen people. The purpose of this gathering was for band practice. The Saturns played in an Oak Park basement, just like this one, 58 years ago. For the past few reunions, the Saturns — featuring renowned singer-songwriter Marcella Detroit — have been generous to pull some old tunes from the past and entertain their fellow alumni. The Saturns did not disappoint. I was one of the groupies listening in and visiting afterward over a delicious dinner from Mezza.
The reunion party itself was pretty special. It was warm and friendly, truly heartfelt. The country club served the usual buffet with way too many choices — entrées like standing rib roast and more salads and sides than you could count. No one was really there for the food. For me, it's always about the food, but I didn't even care what they put in front of me that evening. It was about visiting and reliving old stories from those tender high school years. Outwardly, classmates seemed at peace with their lives, though one doesn't know what really goes on behind closed doors. By 70 years old, everyone has had bad things happen in their lives, but none were really being discussed.
What I confirmed by being back at home was that I have no regrets about moving to a quieter, more rural, more peaceful life in the San Francisco Bay area. I can easily leave suburbia behind, though it was great connecting with my old hood. One thing I truly won't miss is the Michigan humidity, which hit me the second I deplaned. California has ya beat. My two-square-mile hometown of Oak Park was a magical place to grow up. I feel blessed to have lived there and still be able to connect with fellow classmates.
In the spirit of "what's cooking," I would be remiss if I didn't feature one of our old high school cafeteria's standard hot foods. Johnny Marzetti is an inexpensive casserole of macaroni, ground beef and cheese created by the Marzetti family, who arrived in Ohio from Italy in the late 1800s. By the 1920s, the recipe had drifted to Michigan and other Midwestern states. Side note: this is the same Marzetti family who created the line of salad dressings that you can buy at most grocery stores in the Midwest.
I must confess: I never ate from the hot food line in high school. In my senior year, every day — and I mean every day — I had tuna salad on Wonder Bread, a pair of Hostess Cupcakes and chocolate milk. I'd say that's processed food on steroids!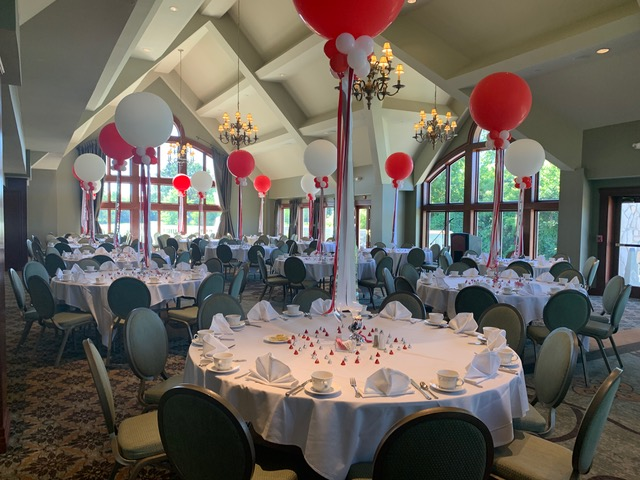 Bonnie's Johnny Marzetti
Yield: 8 servings
1/2 lb. fusilli or rotini pasta
2 Tbsp. olive oil
1 medium onion, diced small
1 red, yellow, or green bell pepper, diced small
3 garlic cloves, minced
4 oz. mushrooms, sliced thin
1/2 tsp. crushed red pepper flakes
1/2 tsp. dried thyme
1 lb. ground turkey
2 c. canned crushed tomatoes in puree
3/4 c. pasta water
1 Tbsp. tomato paste
1/2 tsp. salt
1/2 tsp. coarse ground black pepper
1/2 c. chopped fresh herbs: any combination of rosemary, oregano, parsley or thyme
1 c. shredded sharp cheddar or mozzarella cheese
1 c. grated Parmesan, divided
Bring a 3 qt. pot of salted water to a boil. Add the pasta and cook until al dente. Drain well, reserving 3/4 cup pasta water. Reserve.
In a large sauté pan or brazier, cook the onions, pepper, and garlic in the oil over moderate heat until they are translucent. Add the mushrooms, red pepper flakes and thyme to the pan. Cook another 5 minutes. Add the ground turkey, breaking up the meat with a spoon. Cook thoroughly.
Pour in the canned tomatoes, reserved pasta water, and the tomato paste. Turn heat down to low and continue cooking and stirring for about 15-20 minutes.
Remove pan from burner. Add the pasta and stir to coat with the sauce. Season with salt and pepper. Blend in the cheddar or mozzarella and 1/2 cup of Parmesan. Fold in the fresh herbs.
Spray a 2 qt. casserole with pan release. Fill with pasta mixture. Sprinkle top with remaining 1/2 cup Parmesan. Bake in a preheated 400° oven for 20 minutes.
Bonnie Fishman attended the Cordon Bleu Cookery School in London. Later, she owned and operated Bonnie's Patisserie in Southfield, Mich. and Bonnie's Kitchen and Catering in Bloomfield Hills, Mich. She has taught cooking for over 35 years and created hundreds of recipes. She is now living in Northern California.