I am a Jewish woman, a mother, an artist and a steward of the Earth. My identity is all of these aspects of who I am, adhered together like the little pieces of paper in my collage artwork. Each piece is as important as the other – all of them together make me whole.
I have always had a love for paper in its many forms, having worked in print media in journalism and experienced the most beautifully illustrated books as a teacher and parent. Paper collage became a way to use what was around me, incorporating all of my memories – the colors and landscape compositions of the past.
When I was in fourth grade, we moved to West Bloomfield. Jewish Family Service of Metro Detroit hired my dad to be Executive Director and the whole community treated us like family. For me, BBYO, Temple Kol Ami, the JCC, Camp Tamarack and the Israel High School semester program.
Through all of this, I learned that caring for the natural environment is embedded in Jewish ethics and traditions as is tikkun olam, repairing the world. The overlap between Judaism, motherhood, artistry, environmental stewardship and living one's intention has helped shape my values and perspectives and ultimately my art.
My art creation is methodical, meditative and forces me to slow down the pace. Over the years, I have developed an appreciation for patterns, as texture, and slight color variations. I started off creating art for family and friends, using magazines I collected. And, when I felt brave enough, I introduced my work to the public.
"In Bloom" incorporates colors and patterns from condolence card imagery for a private collector. It was a great honor to be a part of her healing process in this way after the passing of her mother. The piece has various connections for her, related to subject matter, composition and color choice.
---
For me, connection with Judaism, connection with G-d, earth and creativity happen in combination, through recognizing and feeling gratitude deeply, finding and appreciating the beauty of nature, of family, and appreciating and trusting in my own gifts and talents as one way to be of service to others.
"Conversations with My Mother" is a piece of personal and historical Jewish significance. It includes letters that my grandfather (Opa) received from his father and younger brother, who were trapped during World War II. Images of my ancestors and an overlay of the text from my mother telling the story.
---
My philosophy around the creation of my art includes relying on intuition, having positive intention, working with my hands and touching each piece of paper I place – because that infuses energy into the work.
"After A Storm" was inspired by an adventure to the Rocky Mountain National Park but also focuses on the duality of the name and how the title relates to human emotion and overcoming personal challenges.
---
Since starting on my artistic path, my practice has evolved and will continue to (probably forever). But I know I have found my soul work and a way to be of service to others, providing visual healing and bringing beauty into the world.
Much of my work highlights simple beauty in the natural world. Life is so busy; we are trained to look for the next thing. It is important to be rooted, grounded and present in the moment: in a landscape, a sunset, a connection with the earth through a nature hike. A genuine connection.
Sorting paper in the studio for my current work-in-progress "Unburden," related to Chakra energy.
---
Hiking to Hanging Lake in Glenwood Canyon, Colorado. It brings me much joy to create works based on natural places I've experienced with my family.
---
"Hanging Lake," a magazine paper collage interpretation of this breathtaking natural place.
---
As a medium, magazine paper is undervalued, can be repurposed and has unique characteristics. Paper provides subtle patterns and textures that invite engagement and interpretation.
Over the past several years, I have been seeking actions that align more solidly with my values, in order to feel more genuine, rooted and connected, especially during these turbulent times. I have reflected on the importance of living one's truth, in all aspects of life.
I am blessed to live near my parents, siblings and their families in the Denver metro area (yes, we all relocated to the same city). As a family unit, we have been volunteering with social action and have been participating in local Jewish community events remotely, marinating in the togetherness (although socially distant) Jewish holidays (sometimes with traditions reimagined) that bring my family and those of my siblings and my parents together.
I have found solace and purpose in my garden, reconnected with my spirituality, sought out community and have infused these connections into my art. In working toward living out my values more fully, my husband/partner and I have established a backyard permaculture-focused garden and are now composters and small-scale vermiculturists. We reuse whenever possible, reduce packaging and make lifestyle choices that account for sustainability and together we are working toward becoming master Reiki practitioners.
"Garden Bounty" recycled paper collage inspired by our first year harvest of carrots.
---
"Fair Weather Friends," a mixed media collage. Nature is stunning in all seasons, and the transitions that take us from one to the next offer a time to pause and reflect.
---
"Influences of Borage" was a response to my connection with nature's palette for the borage plant. While borage has understated (often overlooked) beauty, it is a powerful, beneficial garden plant for pollinators.
Thriving borage in the vegetable garden. A part of permaculture gardening is understanding how plants support each other.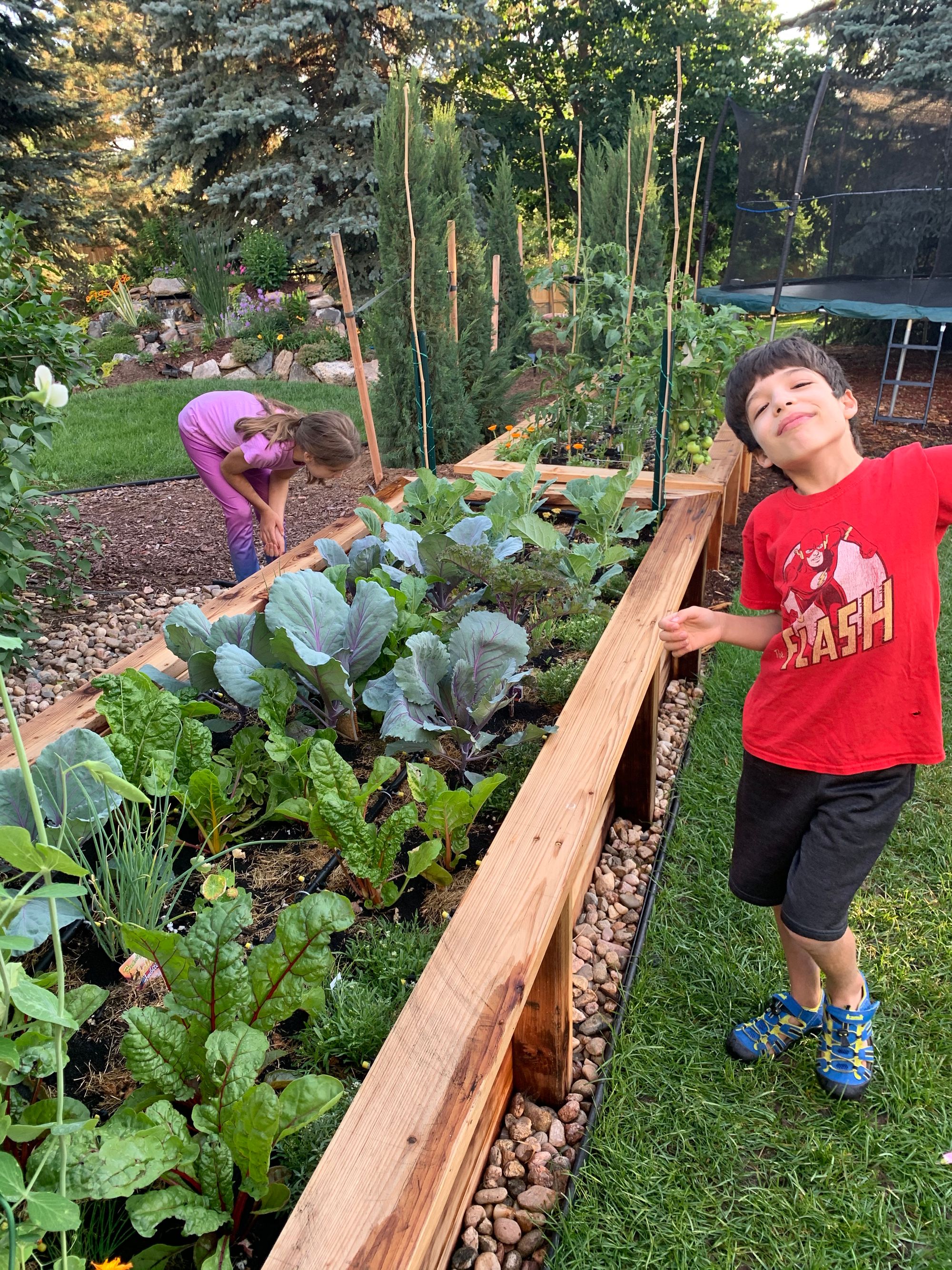 ---
"You'll Find Me in the Leaves" is a recycled paper collage on archival panel. I often find strength and clarity for difficult situations by turning to nature. I have a deep connection with trees and find so much peace in that relationship.
---
The play between color and open space, textures, patterns and shading in my art … one aspect only takes meaning in concert with the others. It is through the intersection of these aspects of myself that each takes on meaning … as a Jewish woman, a mother, an artist and a steward of the Earth.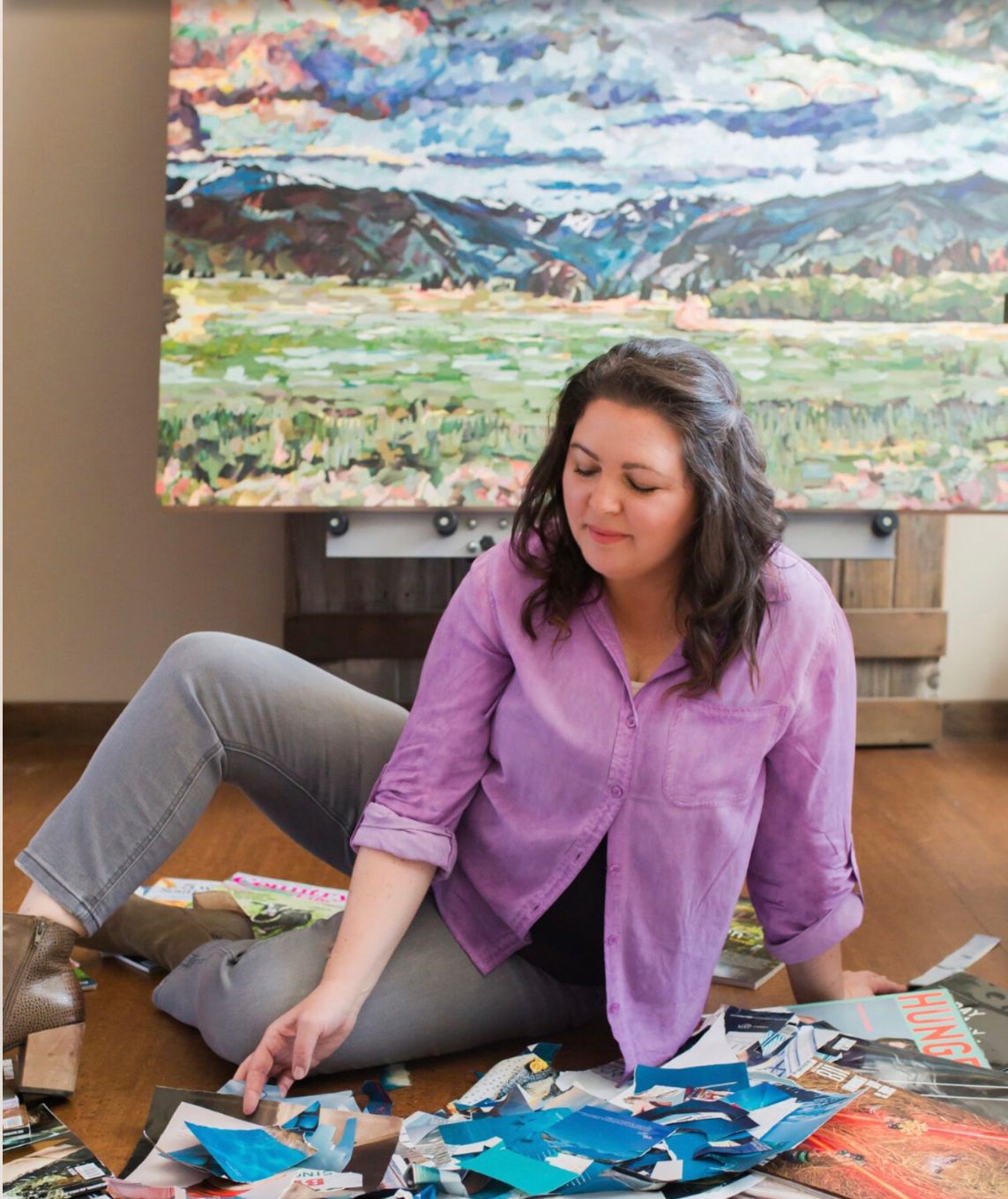 ---
Shara Oliman is an impressionist paper collage artist, living and working in Aurora, Colorado. Using recycled paper as brush strokes, Shara's work focuses on the play of light and shadows, depth and texture.
Upcoming exhibitions and available works can be viewed at sharaoliman.com.
Follow Shara on Instagram at instagram.com/sharaoliman.