As a dad, I have emulated much of the parenting I experienced growing up – including a singular lesson I received about the proper way to introduce people to each other, depending on their age and gender, while loading the dishwasher. In the 30 years since, I have not had an opportunity to introduce anyone while loading the dishwasher, but that's how my dad taught me, so that's how I taught my son.
One exception is pictures. Most of the photos from my childhood are from Halloween and, in most of them, I'm wearing a mask. Werewolf, Old Guy (I guess), George H.W. Bush – that really could be a picture of any fun-loving ten-year-old in the days leading up to the 1992 presidential election. With Judah and Phoebe, I have probably over-corrected in terms of photo-video volume (570GB), while neglecting to have them ever sit for a professional photographer.
Halloween has been a perennial parental success for our household – in terms of trick-or-treating duration (variable), weather-appropriate attire (including the year I had to wear my varsity jacket because it was my only jacket), allergic reactions (none), Butterfinger allocation (mine) and, of course, costumery.
Having established our consistently excellent parenting, the logical next step is to pit Judah and Phoebe against each other to determine who had the superior costume each year. I love both my kids equally. And I love them enough to not have to pretend that all costumes are created equal.
---
2011: Strawberry vs. Elmo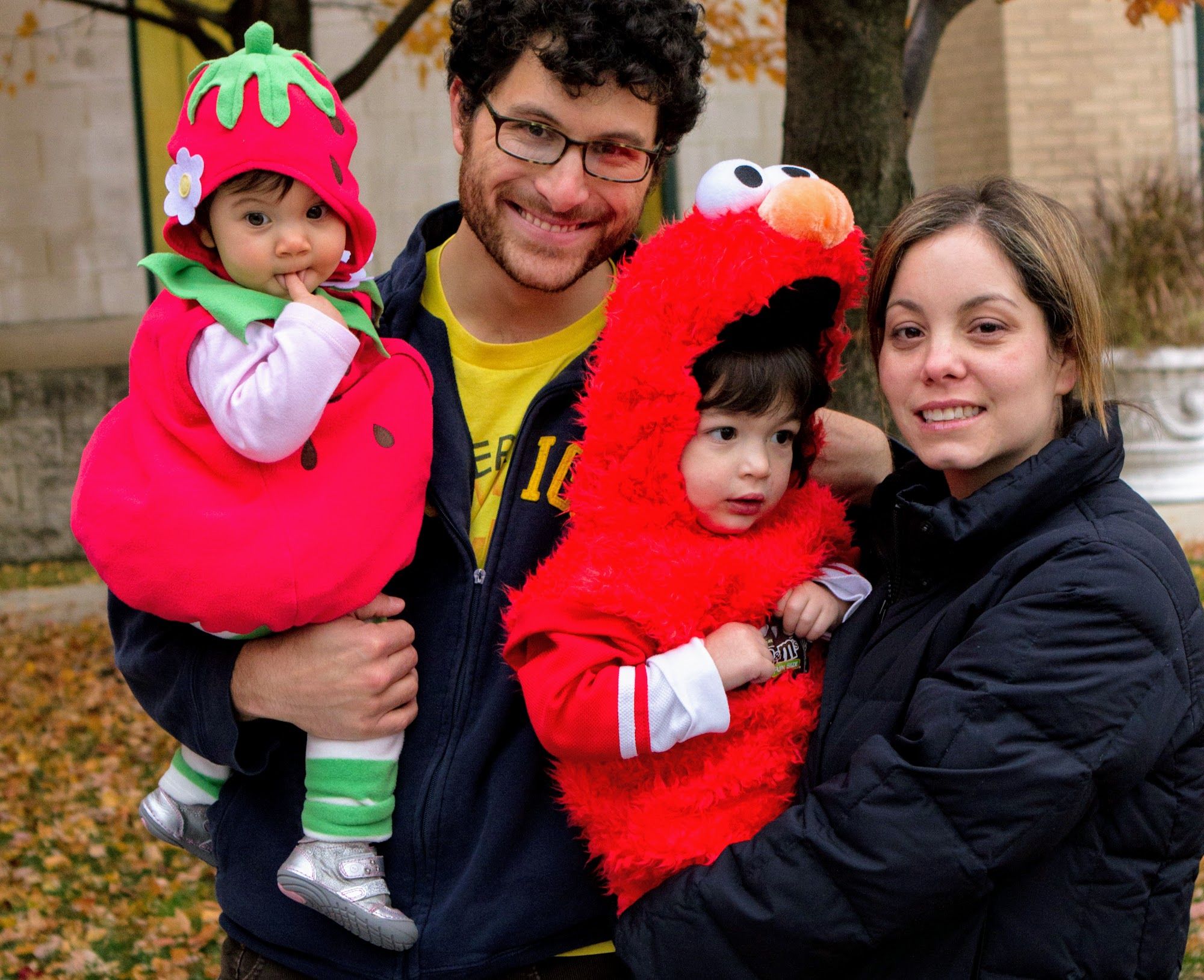 Winner: Elmo
Why: Ten-month-old Phoebe fared well, but no one seemed convinced that she was really a strawberry, at least based on the fact that she received virtually no candy. Judah captured the manic energy of Elmo and, in his calmer moments, the visage of Elmo ingesting an entire human child.
2012: Fireman vs. Kermit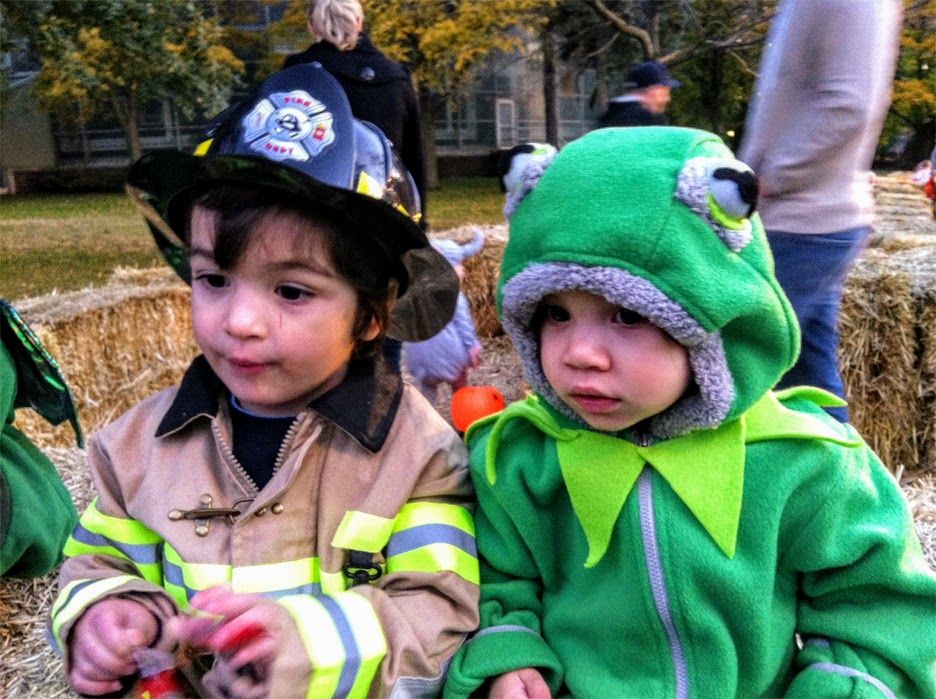 Winner: Kermit
Why: Phoebe no doubt took stock after her first Halloween and determined that Kermit would offer the right combination of pop culture nostalgia and emotional range. Just months before the onset of her (relatively) terrible twos, she leaned into Kermit as both the wildly gesticulating MC of the haphazard Muppet Show and the more contemplative crooner of Rainbow Connection. Judah looked the part of a fireman but barely reacted when I set off the smoke alarm.
2013: Belle vs. Car Maybe
Winner: Belle
Why: A down year across the board – bad weather, ill-advised mustache, the Tigers losing to the Red Sox in the ALCS. Plus, it was A.J.'s first week back at work after being home with the kids for four years. I'm not saying it's her fault Judah's Halloween costume was a literal banker's box with jar-lid headlights and plates for wheels – or that being home with the kids isn't work – but Phoebe takes this for her impressive resemblance and fidelity to Belle (pictured).
2014: Buzz Lightyear vs. Belle Again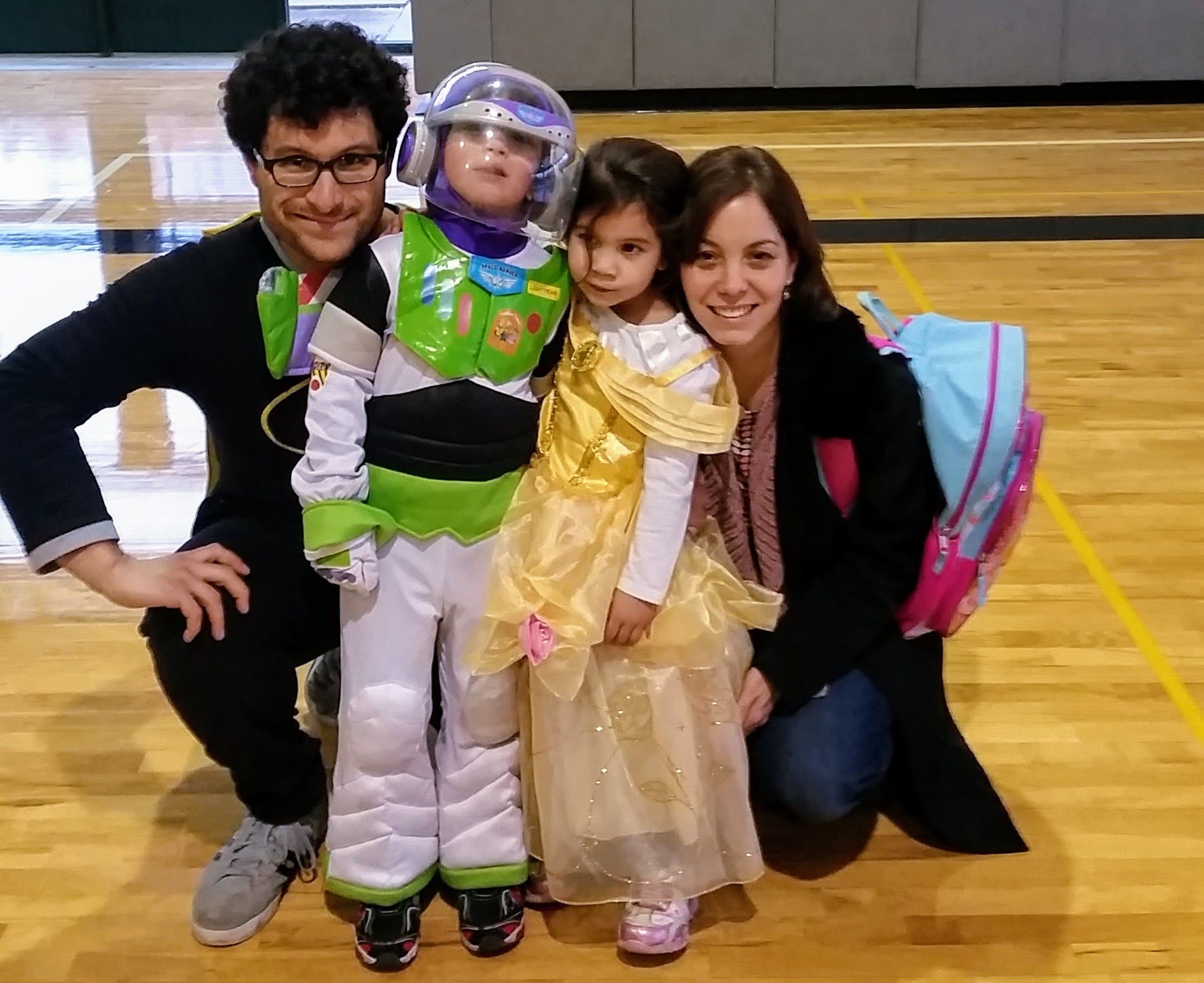 Winner: Buzz Lightyear
Why: At some point in the prior year, Phoebe's princess costume turned into a princess uniform. She upgraded her dress to be the veritable Belle of the ball. But Buzz Lightyear took Halloween to infinity and beyond, especially in terms of his unprecedented kindergarten candy haul.
2015: Princess Anna vs. Spiderman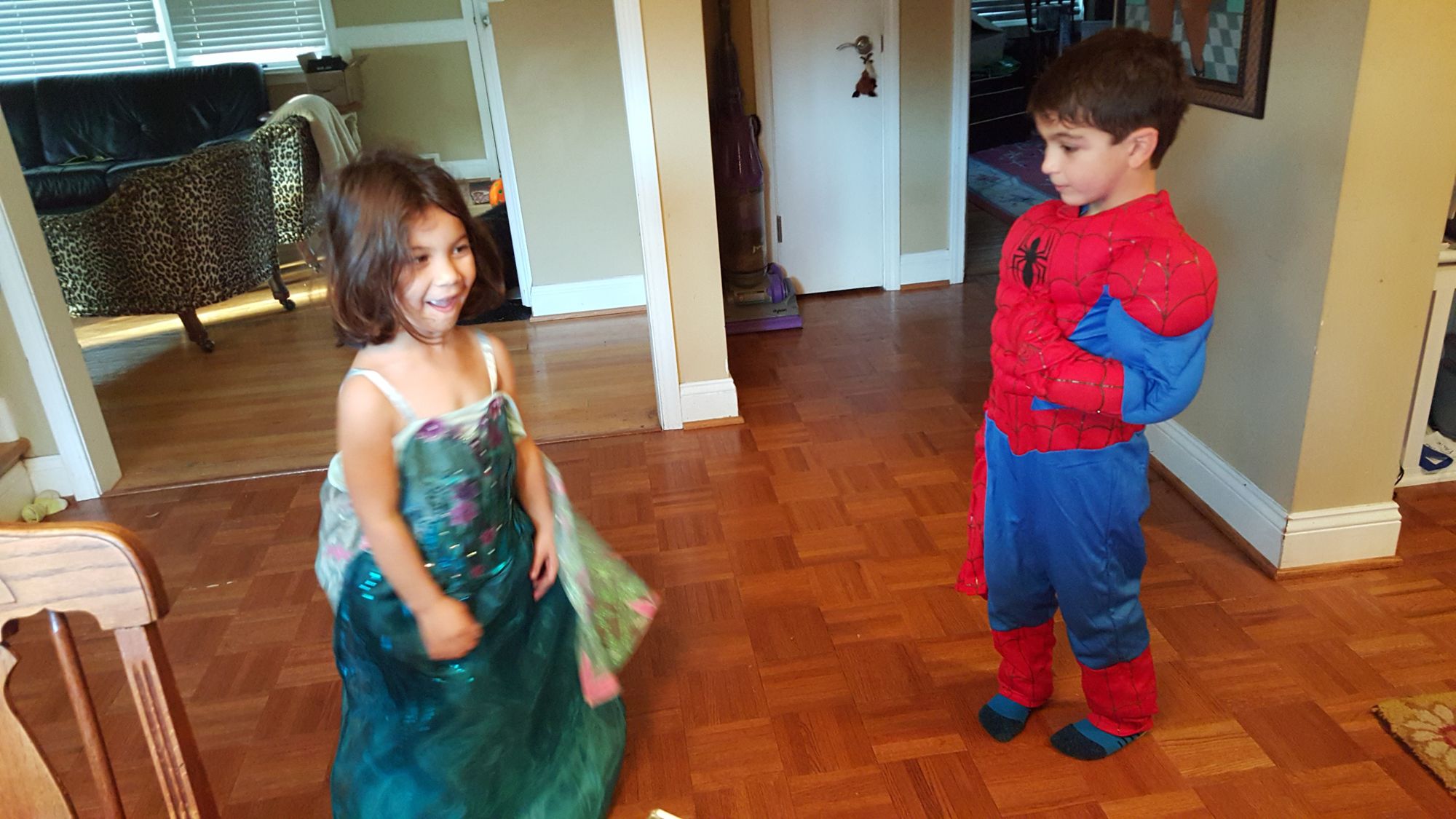 Winner: Spiderman
Why: Phoebe gets credit for diversifying her princess portfolio – as does Frozen for introducing a little more feminism into the princess industrial complex – but she couldn't quite let it go in time for Halloween. Judah proved persuasive in his transition from spectacled Peter Parker to wall-climbing Spiderman, replete with foam musculature.
2016: Rey vs. Kylo Ren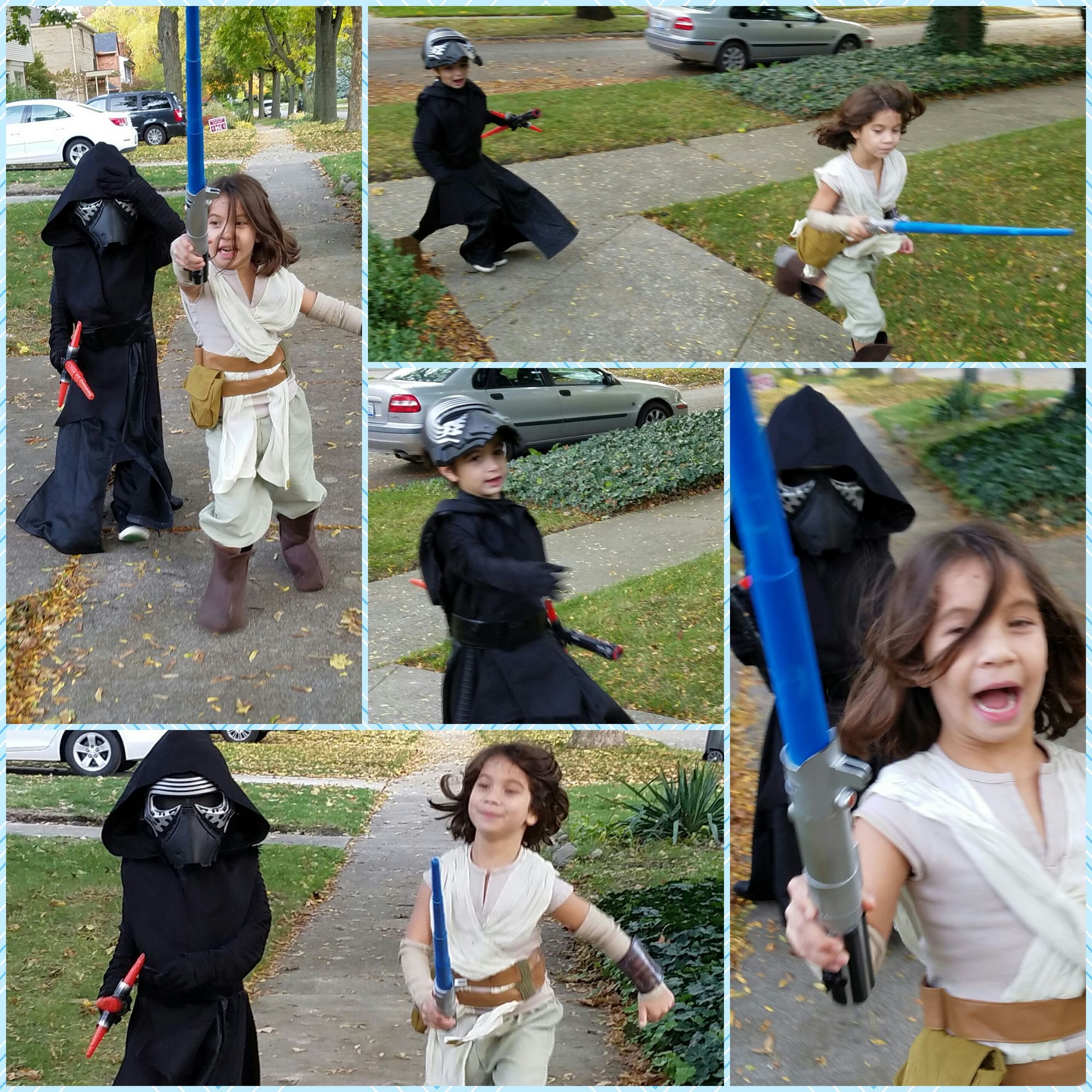 Winner: Rey
Why: The force awakened in the Falik household and generated enough mitochondria to yield the first and only coordinated costuming. The real victory was that no one took a lightsaber to the eye. That said, Phoebe reigned supreme this Halloween for resisting the darkside of perpetually gendered dress-up.
2017: Kubo vs. Harbaugh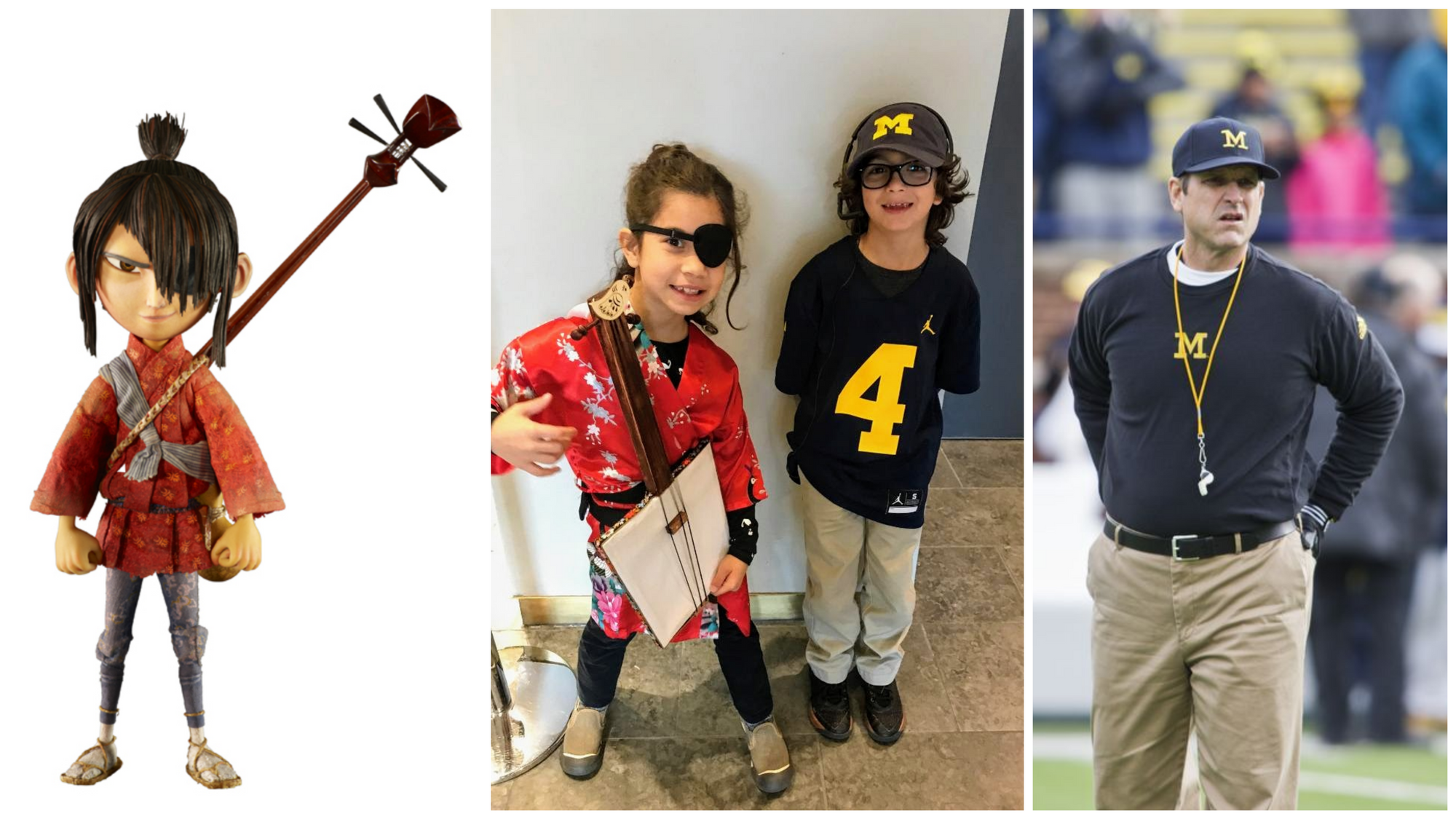 Winner: Kubo
Why: First, Phoebe did not lose an eye (lightsaber or otherwise) between Halloweens. She is the titular hero of Kubo and the Two Strings, a humble troubadour who must go on a treacherous journey to defeat her power-hungry grandfather, in contrast to Phoebe's Papa, who crafted the authentic replica shamisen for her. Judah was convincing in his authentic replica khakis and headset, but – and this pains me to say – struggled to live up to the hype.
2018: Ruth Bader Ginsberg vs. Matthew Stafford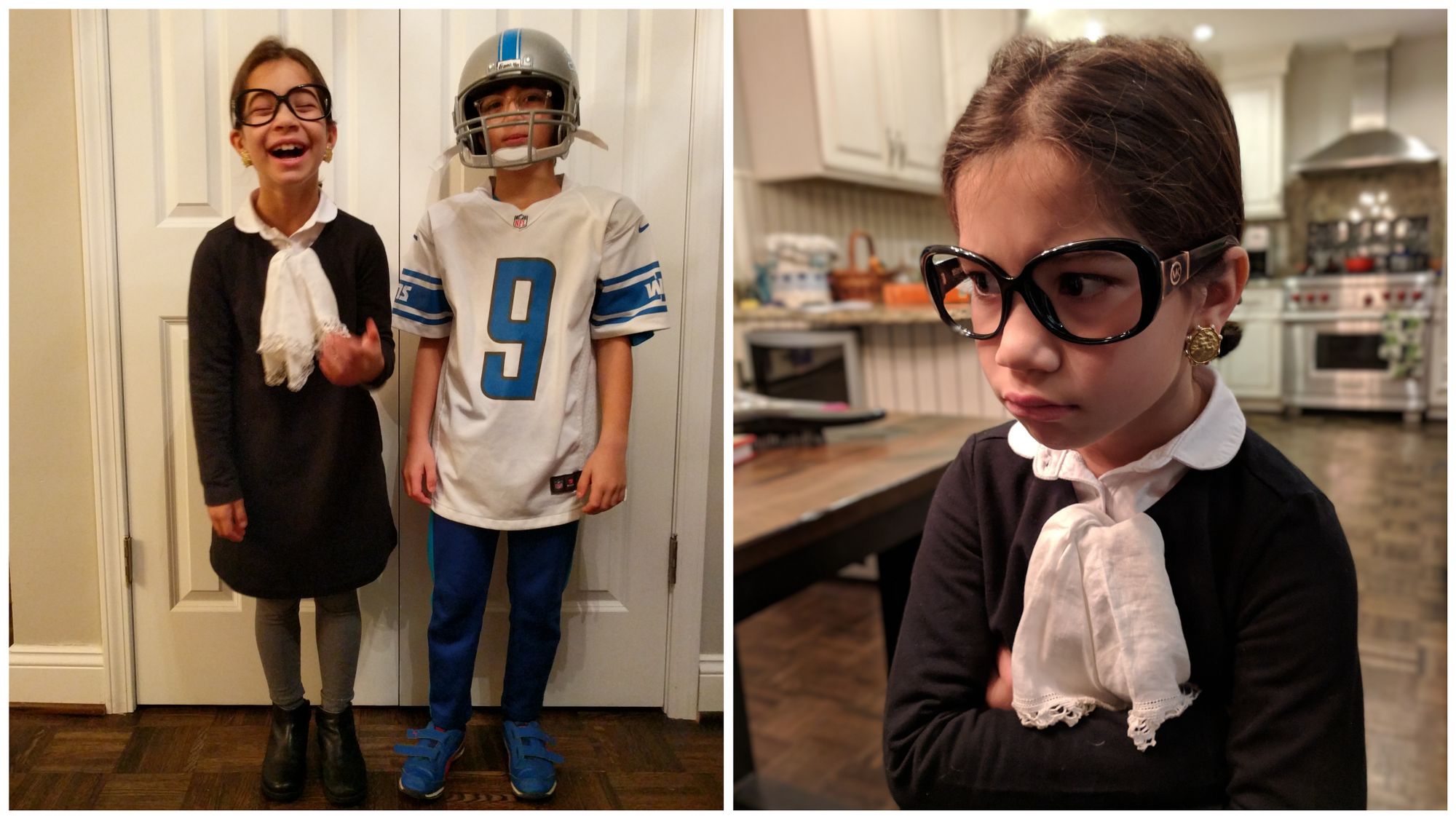 Winner: RBG
Why: In her most decisive victory, Phoebe channeled the Notorious RBG, including her dissent in the case of More Pictures vs. Late for School. The costume was lost on some of her less erudite contemporaries, but she was handsomely rewarded by the residents of Huntington Woods. Judah went back to the gridiron and got off to a promising start but – this one is painless – his costume was tragically authentic.
2019: Pirate vs. Bob Ross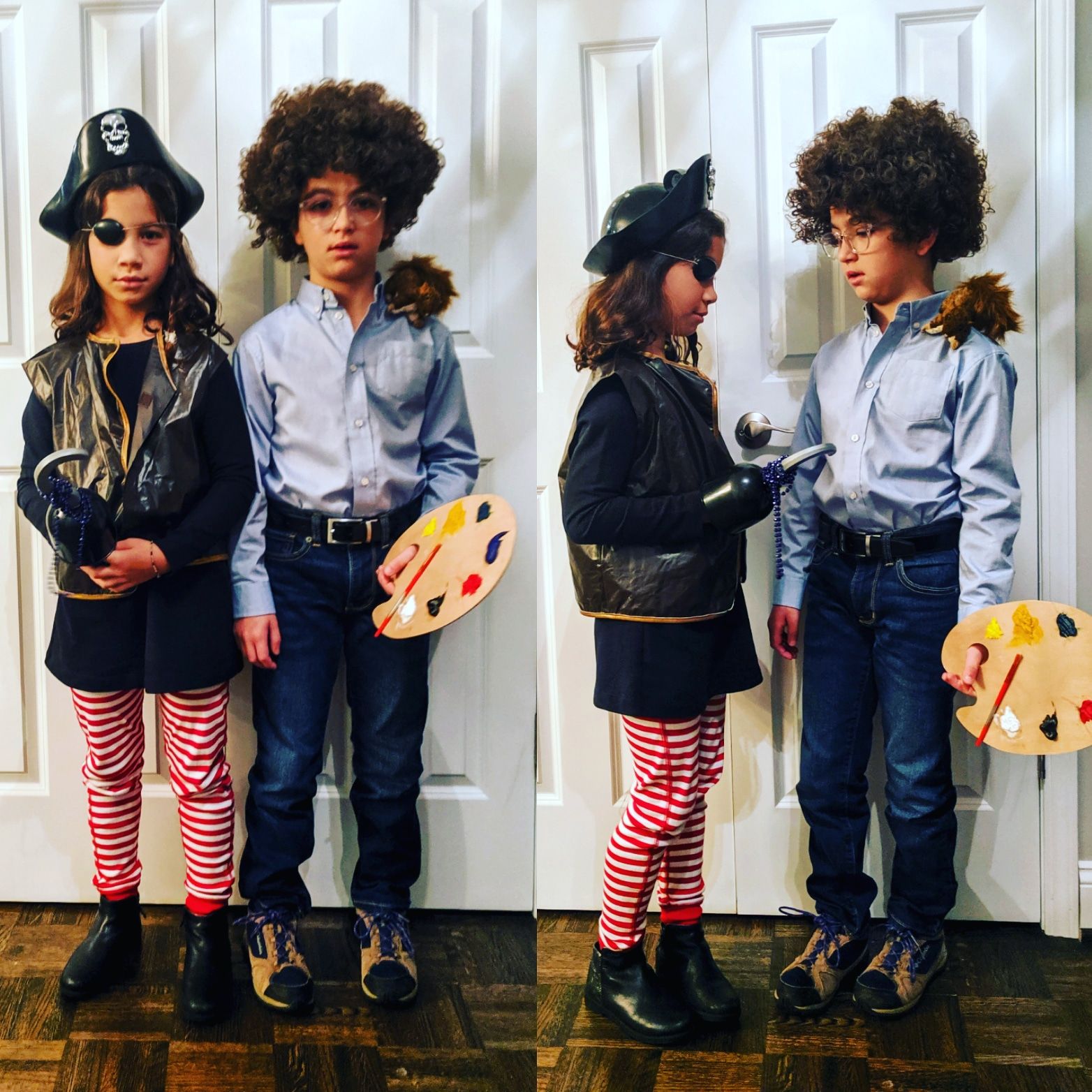 Winner: Bob Ross
Why: Call it a happy accident, but Judah closed out elementary school and The Before Times with unassailable artistry, keeping the clouds his little secret. What his hair lacks in nuance, he more than makes up for with the paint palette and pet squirrel. Again with the eye patch for Phoebe – there be no cause for concern for her corrrrrrrnea.
2020: Sheriff Woody vs. Hermione Granger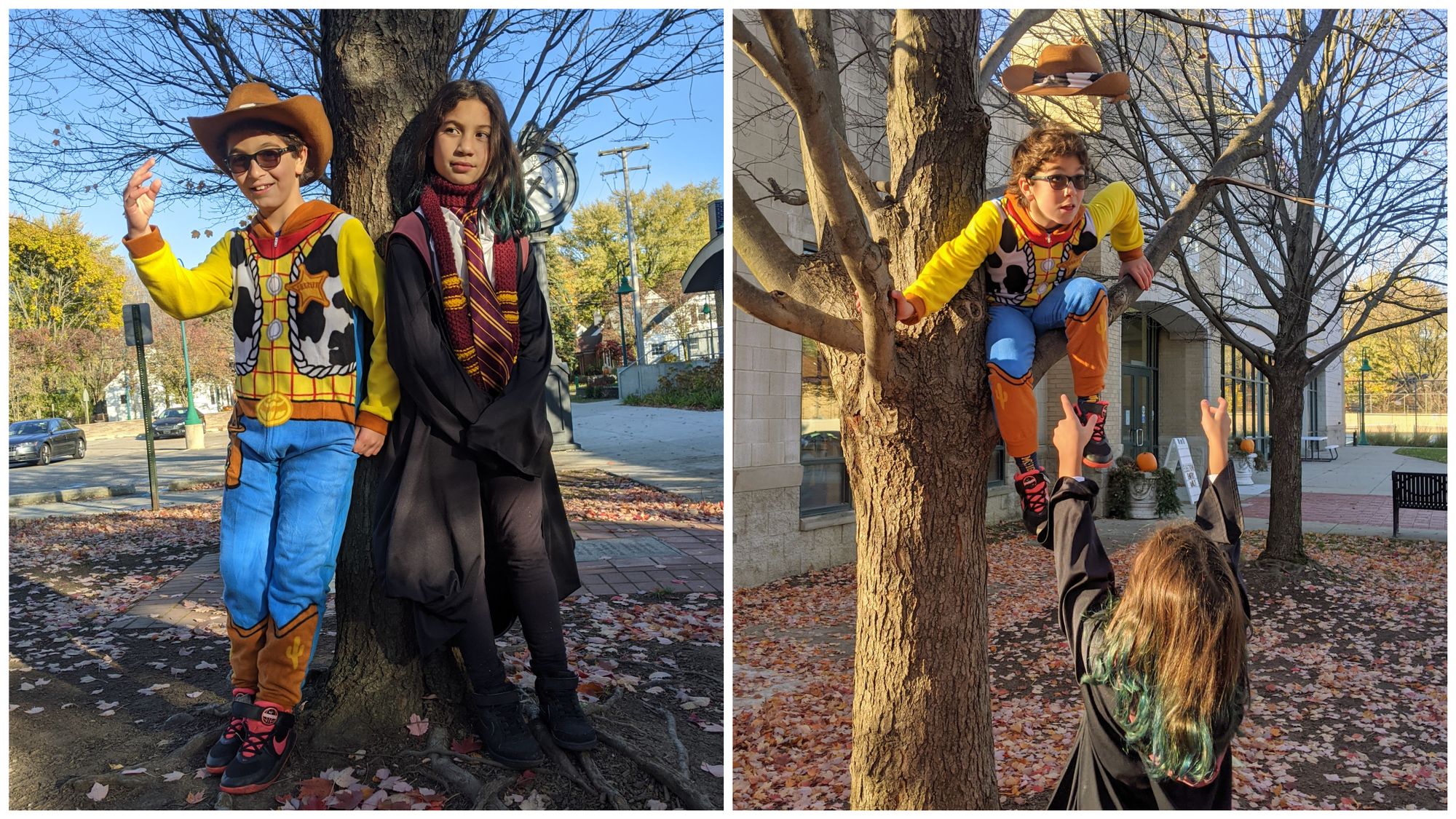 Why? This one – in which Judah and Phoebe overcome months of self-quarantine, pod learning and Zoom fatigue to conjure near comparable and broadly admirable costumes –  this one almost stumped me, almost made me wonder whether I should relinquish the responsibility of rating and ranking my children in a zero-sum game of Halloween supremacy. Now I know how Abraham felt when he had to choose between Isaac and his prized ram. Or how the dad on Succession probably feels when I get HBO again.
Phoebe has all the intellectual curiosity and ambition of Hermione Granger, especially when you consider how she read every Harry Potter cover to cover and stayed strong when her dyed-blue hair transformed into a color with no corresponding Pantone. Wingardium leviosa!
And Judah, sweet Judah – as his friends are falling into the adolescent abyss of ironic and cynical costumes or giving up the noble pursuit altogether – Judah goes full Pixar. Back to You're my favorite deputy, back to There's a snake in my boot, back to You've got a friend in me.  To paraphrase the sheriff himself, I can't stop Judah from growing up, but I wouldn't miss it for the world.
Winner: Woody
Which brings us to 2021, All Hallows Even, the tie-breaker, the final showdown ...
Ted Lasso vs. Frida Kahlo