Deadline Detroit won't go dark until September 5, but I already miss it. In the local media ecosystem, Deadline Detroit has provided powerful photosynthesis over the last ten years – harnessing light, sucking out hot air, replacing it with refreshing oxygen and throwing off some shade for good measure.
I'll be rereading as many of the colorful, incisive stories as possible over the days ahead and doing what I can to preserve some for posterity. For starters, here are some of my favorites from last year, when we were just weeks into Nu?Detroit and Deadline Detroit was marking nine years.
---
We'll be celebrating when Nu?Detroit makes it to nine months (in 8 months), so we can scarcely imagine the nachas of Bill McGraw, Allan Lengel and their team as Deadline Detroit, the dogged digital daily, turns nine years old.
In honor of the milestone, here are nine (9) of the 26,838 (twenty six thousand eight hundred thirty eight) posts that Deadline Detroit has published for free (or $3/month) since April 26, 2012.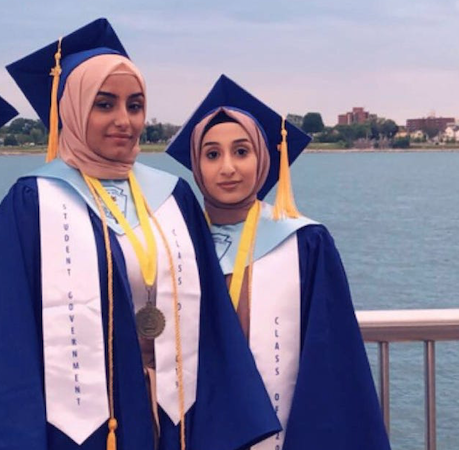 "There's this social hierarchy within the Arab community in which Lebanese people seem to be on top," Kasem explained, noting that HES' CEO, Nawal Hamadeh, is Lebanese. "They would never send their kids into these underprivileged schools but have no problem running them as long as they're profiting."
Tony, it quickly became apparent to me, was a stickler, a punctualist, a neurotic wound tight like a pocket watch. The shoot for his show had been planned to the minute, but I had convinced him to take a ride to parts unknown and unplanned and unmanaged.
"...Back in November I was struggling mightily. My business was failing. I kept a brave face, told everyone things were was going OK. All was going to be well. But in reality, my world was crumbling around me."
Joseph Morrison was on a downward path when an inheritance helped him buy a rural Michigan home that became a training ground for a plot to overthrow the government, according to a former family friend and records reviewed by Deadline Detroit.
On the subject of Kilpatrick, Karmanos said he forwarded Trump a letter Kilpatrick sent to the president asking that his sentence be commuted to time served. Karmanos said Trump is considering the request. He said Jared Kushner, Trump's son-in-law, is handling those cases.
Through it all, Jordan kept going. He studied business and marketing in high school. Then high school ended abruptly with the Covid-19 pandemic. No senior parties. No prom. No walk across the stage for a guy who really deserved the moment. He had done it in a town where far too many don't. And he did it alone. He graduated by way of guts and hard work, brains and determination.
He noticed something almost immediately: Often the GPS locators for the $20 Birds – showing the last known location – indicated they were in public housing complexes. And they weren't in public areas; they seemed to be in individual apartments. In the middle of the night, which is when he made his first rounds, he wasn't inclined to go knocking on doors.
What Fox has never understood is that for Beaumont employees, working at the hospital network was never primarily about money. The job bestowed prestige and being a Beaumont doctor or working with one generated considerable pride. The place was powered on camaraderie, mutual respect, and the collective satisfaction of being part of a top-tier healthcare team.
"There's all this hubbub about a 'new Detroit,'" said Recardo Berrien, 58. "I was born and raised in Detroit. For us not to be part of this 'new Detroit' is absurd. We don't see 'us' in none of this. No elderly and poor. We are nowhere in the plans of anyone down here."
And one for good luck...