Cameras are everywhere. We carry them in our pockets. We pose and preen for them daily so we can post to Instagram or TikTok for all to see. Everywhere we go, we're on camera: in the grocery store self-checkout line, at traffic lights, at school or at work, we know that — in all likelihood — a camera is somewhere nearby watching us with its dispassionate, shining lens.
There was a time, though, only 100 years ago — a shorter time than it seems to be — when cameras were still, for many, a novelty.
Take this photo of a Bar Mitzvah boy, snapped around the year 1910 at the Bonish Studio on Michigan Avenue in Detroit. Today's 13 year old on the eve of B'nei Mitzvah almost certainly already possesses countless photos of themselves — selfies, pictures with friends, awkwardly posed photos uploaded to Facebook by mom or dad. Yet in all likelihood, the boy in these photographs had never before posed for a camera.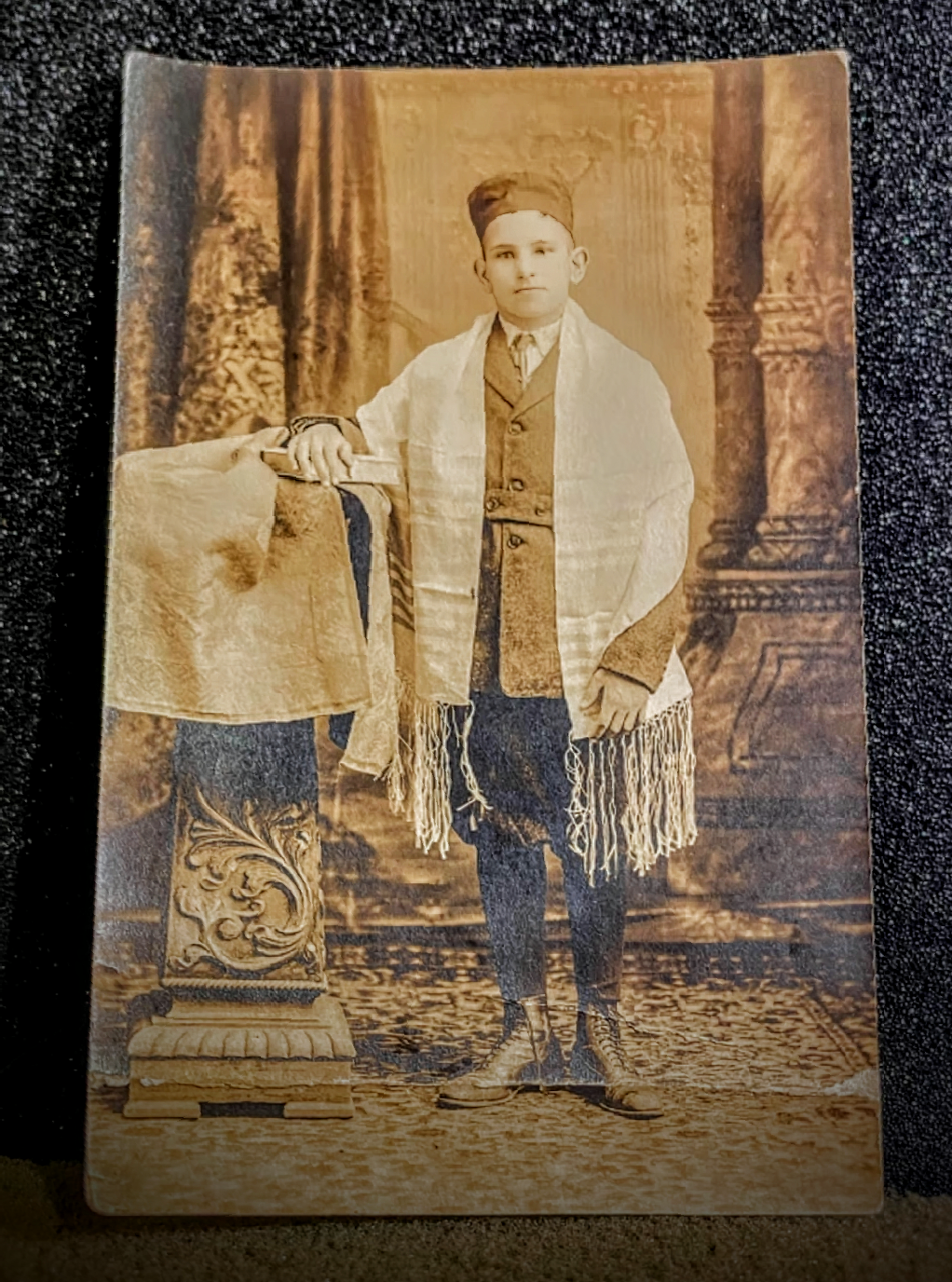 His family had to book an appointment and then travel — perhaps by foot from the predominantly Jewish neighborhood surrounding Hastings Street — or on one of the many streetcars which plied Detroit's streets before the popularization of the bus and automobile — all the way to the portrait studio.
There, they would choose a painted background — a grand palace ballroom decorated with the finest Afghan draperies and Italian marble columns — and pose the camera, careful not to move a muscle.
To our modern gaze, accustomed to the visual dynamism made possible by Portrait Mode and app filters, his posture might seem stiff, static; his smile subdued, even nonexistent. But look closely — anyone who has experienced becoming a B'nei Mitzvah will recognize on his face that unparalleled mix of emotions. Joy at the prospect of gifts and attention, giddy anxiety in the face of new responsibilities and expectations, pride in one's accomplishments.
One can imagine his proud parents just out of frame, instructing him to position his feet this way, not that; gently placing the tallis around his shoulders and the old-world style yarmulke on his head.
Put your arm up on the chair, bubbeleh. Yes, just like that. Let's straighten your collar. Let me untangle your tsitsis, so the camera can see how beautiful they are. You look just like your zeyde. The tallis was his, you know.
We do not know who this boy was. Three copies of the postcard — the last few of many purchased by his parents and distributed to relatives near and far — have come down to us, preserved in the University of Michigan libraries. Would the Bar Mitzvah boy or his parents have imagined that, more than 100 years later, after he and they had passed away into the mists of history, his proud, youthful visage would continue to stare out at us from a few faded postcards?
Could they have fathomed that their lives — and their whole Jewish community — would be the focus of an entire museum exhibit dedicated to Jewish life on Hastings Street at the turn of the century?
The Jewish Historical Society of Michigan's new exhibit, IN THE NEIGHBORHOOD: Everyday Life on Hastings Street, will be on view at the Detroit Historical Museum's Community Gallery from April 20-July 14, 2024.