It is easy to get lost in the archives. Not because it is such a big room, but because the rabbit holes of research can make hours fly by — looking up only to recall you are not currently living in 1920.
One of these historical rabbi(t) holes took me back to the era of Albert Kahn and Rabbi Franklin, when they teamed up to build Kahn's second Temple Beth El building in Detroit. Rabbi Franklin, in his letters to Kahn, comes up with the idea that the ten windows in their new sanctuary at Woodward and Gladstone should be made of beautiful stained glass and represent each of the ten commandments. Then we get this great exchange back and forth about how this has never been done before and will be a great opportunity for an artist and so on.
But my favorite part of the letters? Rabbi Franklin makes a joke to Kahn (nothing like historical humor) saying:
It isn't merely a trick to turn one of my members to reading the Bible…
I love this. I truly laughed out loud — thinking about Franklin making a punchline out of his congregants being tricked into learning during services, even if they are not paying attention to the service itself. Once the hilarity subsided, the windows were made — beautifully, I might add —  and lined the large sanctuary at the "new" Beth El, from its opening in 1922 until 1973.
What do these century-old windows have to do with Hidden in Plain Sight? On April 24, they wil be on full display! (That's a little joke — they are built into the walls.) Though it seemed impossible when the 14 and Telegraph building was designed, Rabbi Hertz and a few determined congregants felt it was critical to bring the windows to their new home. Because they roundly ignored all the professionals saying it couldn't be done, the sanctuary foyer now shimmers with stained glass. They are the perfect backdrop for family photos before lifecycle events all year round.
The stained glass itself may not exactly be Hidden in Plain Sight, but the stories behind and within the windows themselves  are. I hope you will join me on April 24th and come see what other stories are hiding behind the works of art.
Hidden in Plain Sight, Sunday, April 24 from 3:00-5:00. RSVP by April 18.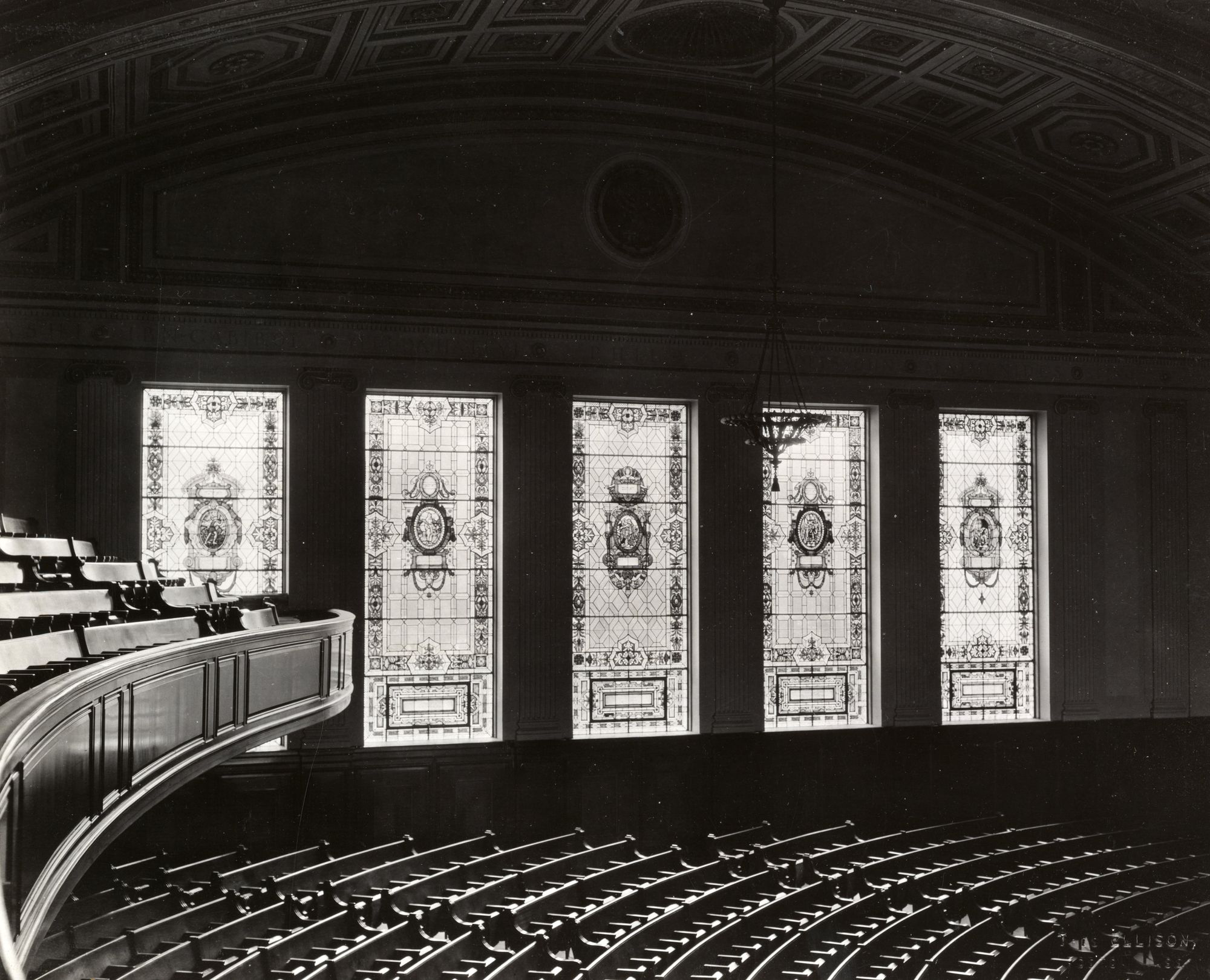 ---
If walking through a secret door to Narnia is not your speed (scroll down for last week's installment), maybe a nice chair is more to your liking. And when I say a nice chair, I mean a fancy, velvet-upholstered chair, imbued with symbolism by the artist who created it.
That's the chair — or rather, set of chairs — you will find on the bima in the DeRoy Sanctuary at Temple Beth El. This one room, albeit huge room, is absolutely packed with architectural and artistic detail. Inside, out, top to bottom, the awe-inspiring sanctuary has hidden gems throughout. Walking in, eyes often shoot up to the ceiling and then make their way to the front and center, looking directly at the bima. The ark, menorah and eternal light may grab your attention, but what I like to point out? The chairs.
Comparatively, chairs do not usually stand out in a seven-story architectural wonder, but they are truly their own works of art. Shaped to mimic the room itself, each one slopes down from the top into a circle on the floor. You might notice the sloping shape from the front, but you would have to walk around to the back of the chairs to catch the other symbolic elements. Hidden in the mid-century modern design are seven long beams of wood making up the back of the chair.
Any ideas why the artist chose seven? You guessed it (maybe)! A menorah. One of the classic emblems in Judaism, the menorah has its own layered meaning — used in the Temple in Jerusalem, it calls to mind the seven days of creation. And to add even more meaning to the unique design, the round bottom is supposed to resemble a globe, reminding us G-d is everywhere.
Like the Ark we sneaked a peak at last week, there is much more to be said about the items in the sanctuary — and the sanctuary itself. I hope you will sign up for our open house on April 24th to come see for yourself what else is hidden in plain sight.
Hidden in Plain Sight, Sunday, April 24 from 3:00-5:00. RSVP by April 18.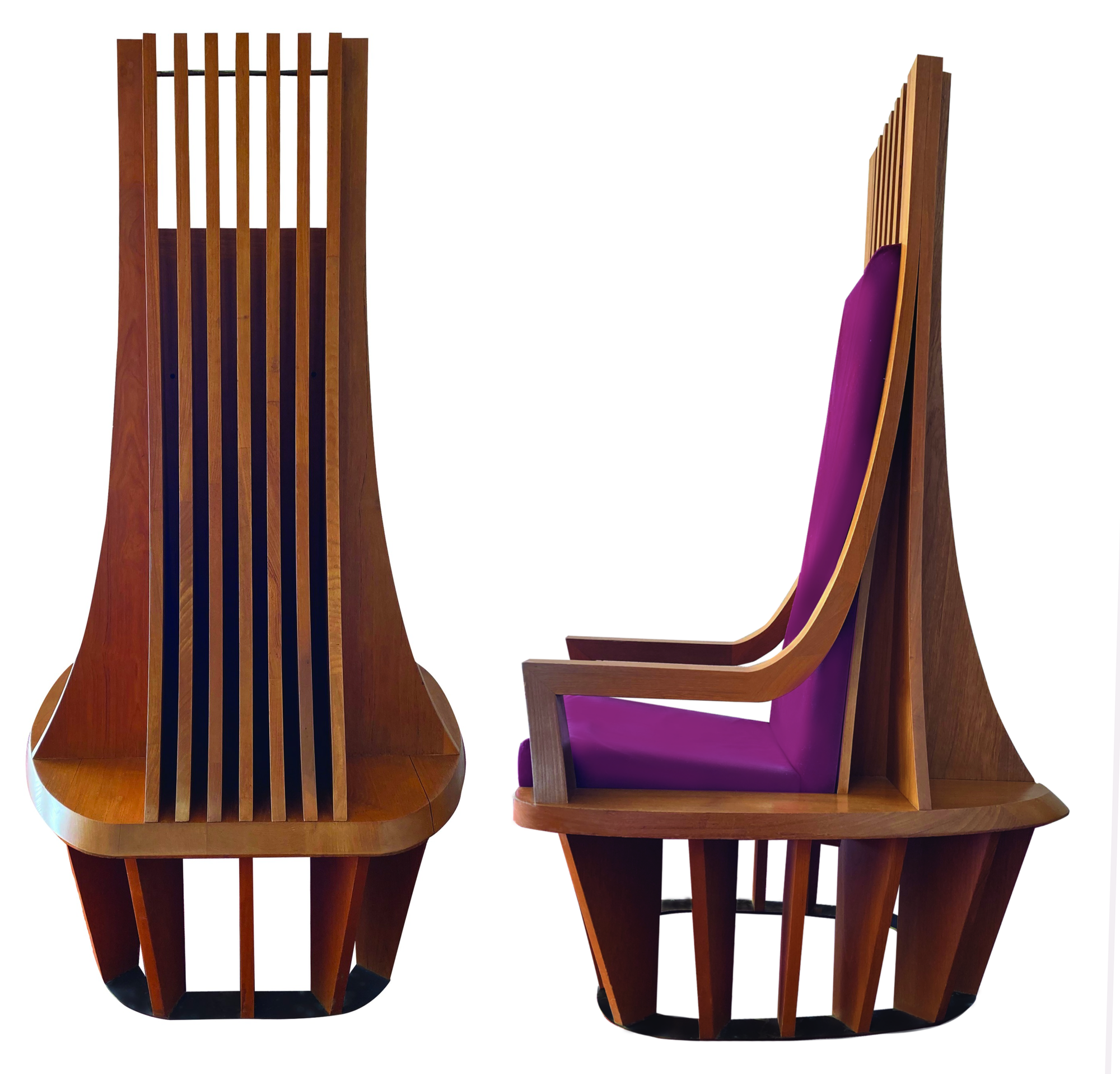 ---
You have probably been to Temple Beth El.
Whether for a wedding, b'nai mitzvah, or some big event 3 or 30 years ago, it is safe to say much of our Jewish community has at least set foot in the building. But it became very clear to me very quickly just how much you can miss walking these halls — for the first time or the thousandth.
This concept, making the unnoticed noticeable, led us to the creation of Hidden in Plain Sight. The April 24th open house will showcase the art and design of Minoru Yamasaki's awe-inspiring building, along with many of the artworks, artifacts and rare documents that this 172-year old congregation has preserved and integrated into a modern architectural masterpiece.
As a sneak peek, I want to share one of my very favorite "secrets" that we included in the event. The ark in the Maas Chapel was designed for the Temple Beth El in 1903 — the building that became the Bonstelle Theatre (now being renovated as part of an AC Hotel). Yes, the ark is beautiful, and yes, it is very cool that it has been brought from building to building for almost 120 years.
But what I love most is the secret door leading … nowhere. In its home on Woodward, the rabbi's study was behind the sanctuary. He (at this time, always a "he") would walk through the secret door to begin services. Which, thinking of it now, probably looked so smooth and almost mystifying — the rabbi just appearing from behind the ark. Fortunately for us, even though the door now just leads to a wall, it was never sealed shut, so we get to have a little Narnia moment whenever we push it ajar.
There's a lot more to say about the ark itself and the chapel — and a whole building packed with artistic and historic gems — so I hope you'll join me and come see what else Michigan's oldest congregation has Hidden in Plain Sight.
Hidden in Plain Sight, Sunday, April 24 from 3:00-5:00. RSVP by April 18.