Navigating complicated times, living without the ease of family nearby, Phyllis Lewkowicz, 86, made the decision to move to Lillian & Samuel Hechtman Apartments six years ago when the lease on her car was up. She had lived in Livonia for 58 years and had served over the decades as President of the Livonia Jewish Congregation, of her Sisterhood and of Hadassah.
A writer and poet, a mover and shaker, Phyllis chose Jewish Senior Life knowing that she could write her next chapter among new friends. She loves to cook and delights her friends with homemade feasts. Daughter Bonnie shared, "My mom who is low-vision and has hearing loss still finds a way to feed people while in isolation." A video of Phyllis on her balcony lowering stuffed cabbage and mandel bread from a rope says it all.
With an artistic eye, Phyllis displays her collection of colorful paintings, vases, and ceramic wall sculptures. She keeps herself active employing her computer skills to create delightful greetings and tribute cards that she sells to other residents to raise money for JSL programs. As a member of the Hechtman Resident Council, she talked to others about ways they too could make life better for their fellow residents. Since 2019, she has sold almost 1000 tribute cards.
My life has purpose. My cards bring a smile to people's faces, and they tell me they appreciate the artwork I make.
---
Nancy Cooper, 76, who writes as a member of the JSL campus writers' group, and has a graphic design background, moved to the Anna and Meyer Prentis Apartments three years ago. She enjoys her welcoming high-rise apartment in Oak Park, just a mile away from her daughter. Nancy let go of her car and walks everywhere. Those long walks on the welcoming grounds of JSL helped calm her nerves as anxieties escalated and residents instituted a mahjong moratorium during the pandemic.
Nancy doesn't walk alone. When Jeff Togal, 66, met Nancy two years ago, he felt that lightning bolt that strikes you when you have locked eyes with your soulmate. Jeff has two grown children and, after years of being alone, he and his dachshund moved into Prentis to be closer to his daughter and grandchildren. An avid music lover and musician, Jeff was the lead singer in the band East Side Paint. He continues to record with a band called The Nuthouse. Along his musical journey, he managed to get autographs from all the Beatles.
When COVID brought isolation, Jeff got to know Nancy during their daily long walks. In their own words, he is "funny, loving and caring." She is "amazing." Sometimes, they give their legs a rest and take a ride in his truck. Jeff teamed up with Nancy to design the Prentis lobby display case with colorful themes that received rave reviews from residents and visitors alike.
---
Selma Goode, a youthful 98, lived at Prentis Apartments for 2 years and now resides at Warren and Margo Coville Assisted Living Apartments. She is a news junkie, consuming the daily Free Press, The Guardian, The New Yorker, PBS shows and news programs. She does the NYT crosswords and sudoku puzzles. She continues to stay fit doing chair exercises.
Selma has a history of making news. Her lifelong activism included the organizing of West Side Mothers as part of the Congress of Racial Equality (CORE). She fought for the social welfare benefits and civil rights of low-income families — all while raising her four children.
We need to be alert to legislation. During the civil rights movement people wanted action. Now people question the basics, this is progress. This is hope.
Mementos from her decades of service — the Myra Wolfgang Award from Detroit Jews for Justice, letters from local and state officials, her personalized Democratic Socialists of America Organizer card — fill Selma's apartment. Her ongoing activism and a wealth of memories keep Selma mentally strong and vital.
---
Widely published poet and award-winning author and artist, Sophia Rivkin, 95 recently moved into the Prentis Apartments where she quickly became an active member of the Workshop of Women Writers. . Her awards include prizes from the MacGuffin, Rattle and Comstock Review. Sophia was honored with the Judith Siegel-Pearson Award from Wayne State University where she received her degree in social work. In the 1960s she went back to WSU and earned a master's degree in Humanities, Art and Literature.
Sophia married her love, Dr. Joseph Rivkin, and they built a life together in Mt. Clemens, where he established a busy pediatric practice. Her four children live out of state but are never out of touch. Sophia's comfortable apartment features an Eero Saarinen dining set, a poetry library, a collection of her own colorful paintings and prints, along with an inspiring plant-filled balcony with a view of the changing foliage.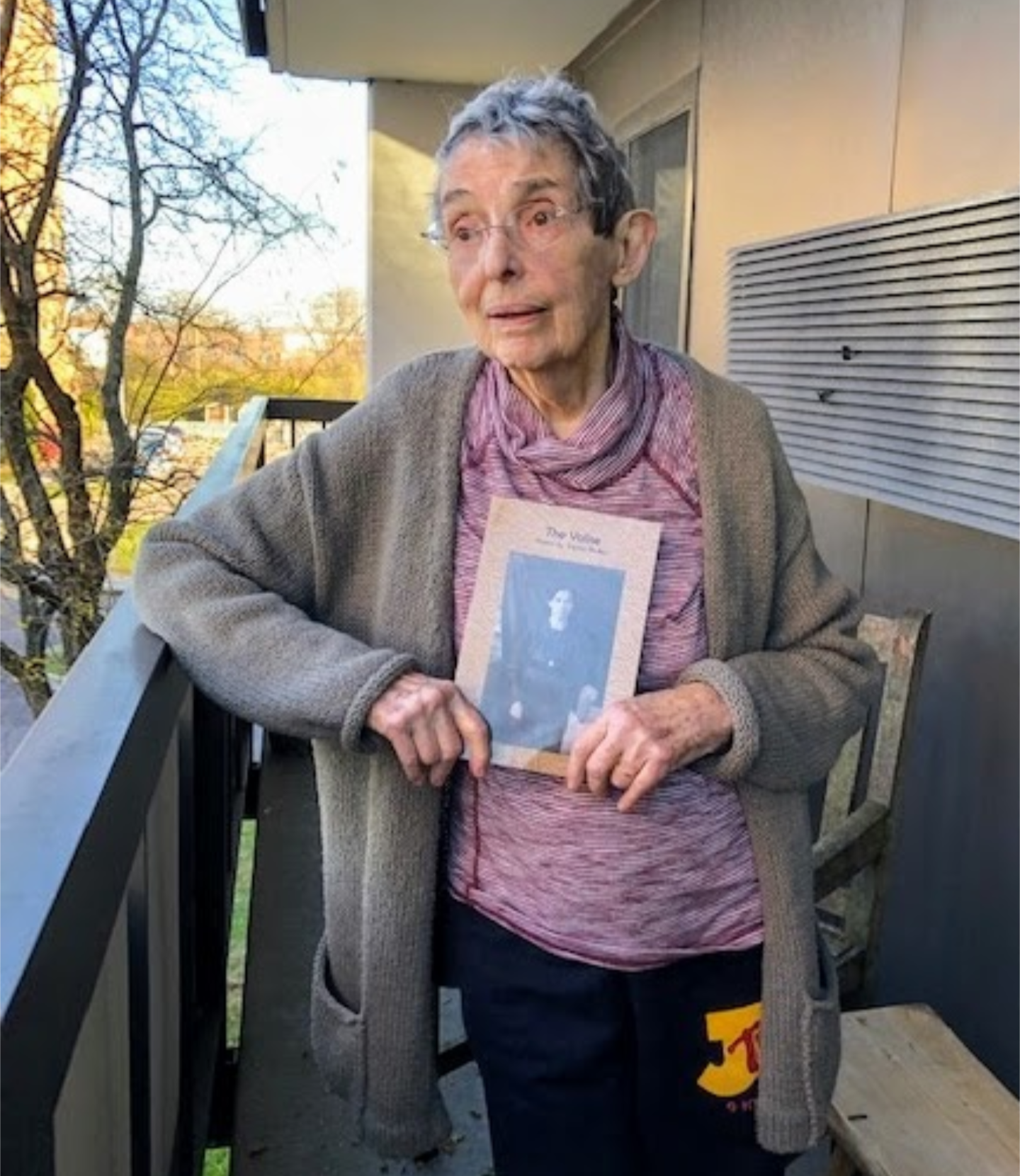 ---
My Mother's Lace Curtains
by Sophia Rivkin
My Mother grew with a pitchfork in her heart—
something planted by the Russian peasants.
Surrounded by enemies, she became an enemy,
fought daily battles with my father.
They fought over money.
Bread and knives flew in the kitchen
They didn't sleep together. She slept with us,
two kids and a mother in one small bed.
They fought like cats and dogs,
but I know cats and dogs who live together amiably.
They fought in the upstairs flat, windows wide open,
so all the neighbor ladies could hear
through their starched lace curtains.
We were there somewhere—
you could not escape—screams like black birds
flying inside the house, then out the holes
of our own starched lace.
After a terrible fight one night, police came
and dragged my father—half dead, half gassed—
from the family car.
What did they accuse him of? He acquiesced.
They brought him back the next morning
and the neighbors watched behind their lace curtains
and he had to serve his full punishment at home
while we, the kids, hid
and served his sentence with him.