In 1954, my grandma painted Palmer Park. The oil on canvas, as described in the Detroit News:
Palmer Park dressed in green and dotted with picnics and happy children is summer recalled by Detroit painter Marjorie Hecht.
The work showed at the DIA's 51st Exhibition for Michigan Artists in 1961, hung in my grandfather's pediatric office and then brightened the clinic at Children's Hospital until it mysteriously disappeared.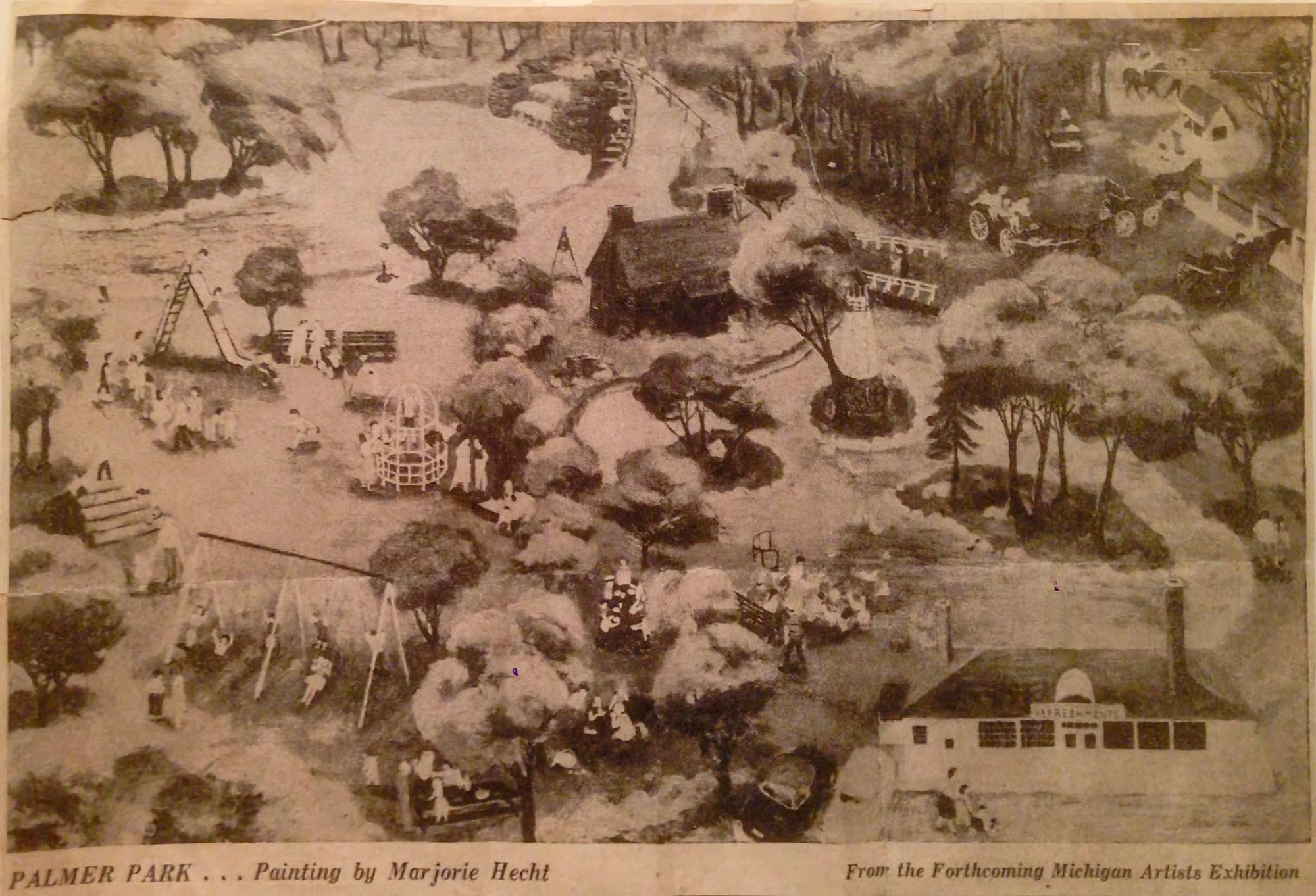 In 2010, I painted Palmer Park. The latex on brick isn't an inch closer to the DIA now than it was when we painted it, but the concentric circles are brilliant in color, if not artistry. And the effort (by Summer in the City volunteers, not me) kept the corner of Pontchartrain and Merrill Plaisance looking good even after Gatliff Pool didn't reopen the following summer.
Grandma hadn't been to Palmer Park in 50 years, so we picked her up one morning, headed down Woodward to an undisclosed destination, and found the park dressed in green and dotted with picnics and happy children, all but two of whom were not her great-grandkids.
Less than 48 hours earlier, (great-grandson) Judah and I arrived in Palmer Park for J-Cycle III, just in time to ride zero miles of the 14-mile route through historic Jewish Northwest Detroit. Once we reached our daily quota of sweaty Jewish people in tight-fitting shorts — a rather generous quota, I might add — we walked 40 feet over to the Detroit-style grand opening of Palmer Park's new state-of-the-art Splash Pad.
What is a Detroit-style grand opening? Like a Detroit-style anything, something goes wrong and then a group of passionate, compassionate people come together and end up making it better than it ever would have been if everything had gone according to plan.
In this case, a broken water main threatened to leave the hundreds of assembled children high and dry. I was only responsible for one of those children and was completely unprepared to deal with the existential wrath stemming from his bathing suit kept from fulfilling its natatorial mission.
While city workers repaired the pipes, firemen came to the rescue — firemen who have not had much to smile about lately — and sprayed their hoses (not directly) at the kids to the sound of near-deafening (happy) screaming. And then, before Judah could eat both Batman- and penguin-shaped ice cream from the free ice-cream truck, the fountains were flowing for the future firefighters.
If I didn't know better, I would assume that the entire splash park was powered by the laughter of children. Pretty close, though — a motion sensor shuts the water off when no one is there (which is rare) and turns it back on promptly for the next activated aquatic adventure anytime between 10 a.m. and 8 p.m. daily.
Lear Corporation funded the entire Splash Park and was, deservedly, the toast of the town, especially because they pulled off the entire project in a matter of weeks and fed the 3,000 people who came out Sunday. But the real story is about People for Palmer Park, a neighborhood nonprofit whose members put tremendous energy into turning a liability into an asset.
Importantly, none of this matters at all to small, soaked children, a posse of whom put the playscape through its paces that morning.
During the pauses in splashing, Grandma Marge gave me three messages to give to you:
1. If you have her painting, give it back;
2. Don't wait a half-century (or rely on stolen artwork) to enjoy the beauty and joy of Palmer Park; and
3. Seriously, where's the painting?
Time will tell how much this and future winters resemble the 60-year-old Detroit News caption:
"Soon the landscape will wear winter white and ice will still the duck pond's ripples. Then the picnickers will turn into skaters, who take hot refreshments inside the big white house. Although the park's mood changes with the season, its ducks remain the same. They're always hungry and admirers are always inclined to feed them."