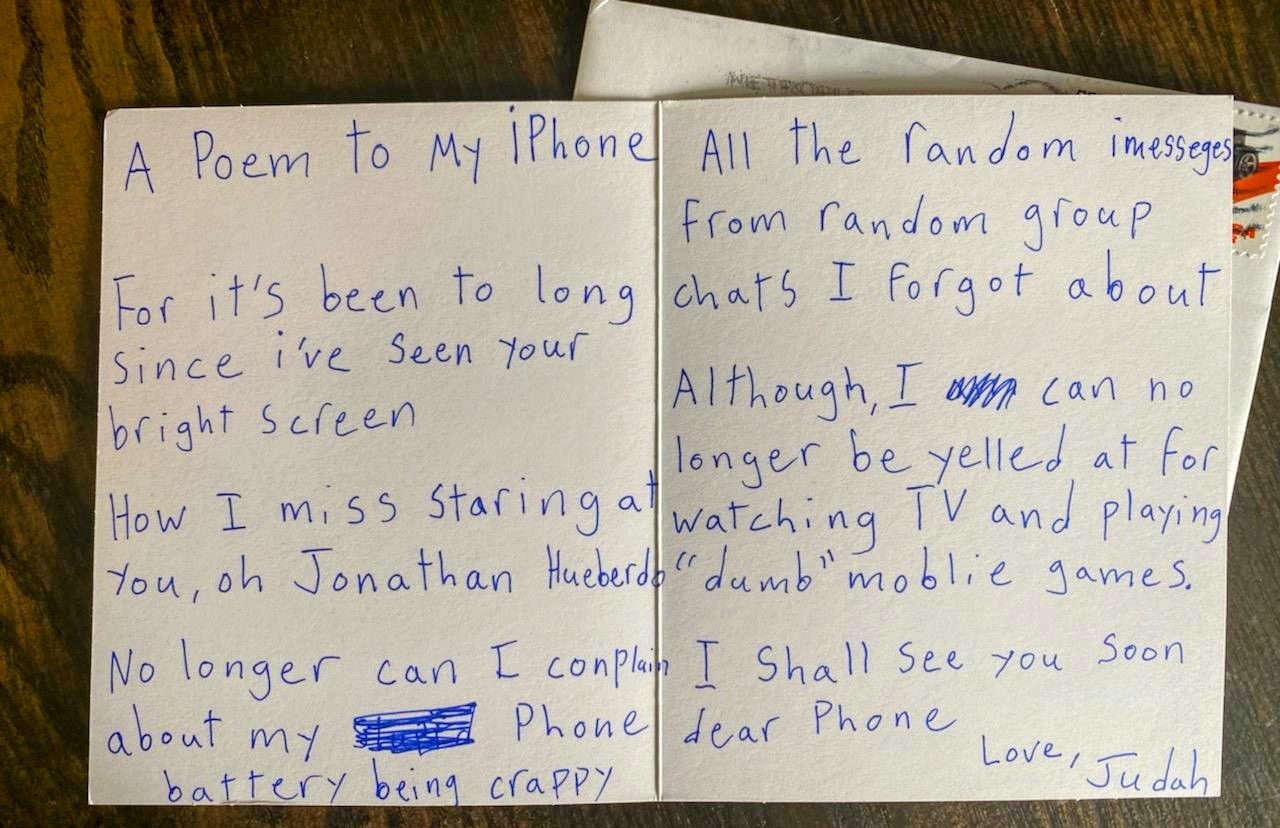 Dear Judah,
Thank you for the poem — I miss you too! It's been pretty quiet here in the drawer with the obsolete chargers and gift cards (Family Video?) since you left for camp. Less stressful than balancing on the handlebars of your bike, but not as exciting as everything you're doing at Tamarack.
#batterylife 💯 amirite! In all seriousness, you know how grateful I am that you are so diligent about plugging me in. We're a good team that way — even after those long days skiing, all my friends (your friends' phones) would be "dead" and we would still have some juice left.
That being said, I feel like this time apart is healthy for our relationship. It's a chance for you to recharge your battery after an action-packed year that included your bar mitzvah and so many others, during which I was very careful not to beep or buzz in the middle of services because I was "off." Not to mention going all the way to Indiana for soccer (championship!), Alpena for hockey (participation!) and Mackinac for school (fudge!)
Now you're camping out in the wilderness somewhere far from even a 3G signal. According to multiple algorithms, this is the optimal time for me to quote Henry David Thoreau:
I went to the woods because I wished to live deliberately, to front only the essential facts of life, and see if I could not learn what it had to teach, and not, when I came to die, discover that I had not lived.
Whatever that means, Henry David Thoreau! That guy didn't even have an iPhone. I bet if he did, his bro Waldo would have been blowing it up all the time like
Hank! Trust thyself lol 🍆 don b a hobgobln
Rest assured — your shatter-resistant Jonathan Huberdeau case is smudge free, just the way you left it. Huberdeau! Did you know that, like many French Canadians, the Huberdeaus came to Florida every winter, so Jonathan grew up rooting for Les Panthères?
Pretty cool that your cousin works for the team and you got to skate on their ice. Remember when we went to the game here and the Wings lost to the Panthers, who made the playoffs then lost to the Lightning, who made the Stanley Cup finals then lost to the Avalanche?
I'm sure you heard about the NHL championship eventually. I knew instantaneously thanks to the many push notifications you signed us up for. So many urgent sports updates — like 21-year-old outfielder Riley Greene hitting his first ever MLB home run — a walk-off! Not much else about the Tigers lately, unless you count Prostate Cancer Awareness Night (no bobbleheads).
For all my encyclopedic sports knowledge, the only teams I really root for are yours. I wait in your bag, buzzing with anticipation — slightly concerned by the moisture and grateful I do not have a sense-of-smell app — for you to return from the rink or the field, heart racing and full of joy, whether your reward was a championship or participation or fudge.
With some of your friends at camp, I have downgraded  the level of group chats to tropical storms from their usual hurricanes. (The Hurricanes had the best record in the East Conference's Metropolitan Division and eliminated the Boston Bruins before losing to the Rangers who lost to the Lightning.)
Seriously though, the volume of texting is too much for my haptics to handle. Doesn't it scramble your human brain? I estimate that, even at this reduced rate, you will have approximately 8,700 text messages waiting for you when you return from four weeks off the grid.
I have to agree with you that your mobile games are dumb. Except Wordle. Sorry to gloat — while you're being all retro and getting rusty, your droll dad is on the brink of an awful impressive streak. I egret to inform you ... hutch a pinto pride!
Enjoy every low-tech minute of camp, Judah. On a clear night, away from even a whiff of wifi, look up at the stars. Pretty amazing, right? If you really use your imagination, you can connect them like an almost infinite number of pixels.
I'm looking forward to our reunion as well. Some days, I think the only thing brighter than my screen is your smile — especially when my LCD display reflects off your braces.
Safe travels and software updates!
Love,
Your iPhone