I asked my students, Where will you be in 2072?
They didn't expect this question. Some said they would be retired, with a big house and grandkids. Some said they wanted to perform in big arenas. One said, "Who knows, really? It's 50 years from now!"
How can we remember the Holocaust in 2072? In 50 years, when there won't be survivors around to tell us about it? When we will be the grandparents? When we are the only ones left to tell?
Yom Hashoah, Israel's national Holocaust Memorial Day. is the most challenging day of the year for me. It has always been. Ever since I can remember.
Weeks before, my heart would ache just from the thoughts about this day getting closer. I know how much sadness it contains, yet I know that I would want to hear every story and survivor in my family — all of my family — and the ones I saw on TV and came to tell their stories in my school. The ceremony will be moving and sad, and everyone will wear a white shirt. And the siren. The two-minute siren screams so loud in every corner in Israel, and still, in those 120 seconds, you feel like you can cut the standing air with a plastic knife. The siren screams for you to stop and remember.
Me? I remember my great grandparents, Shlomo, Pninah, Arie (Johnny) and Yosef. They survived the Holocaust or lost their families there. My four great grandparents whom I was fortunate to know, and all my other great grandparents that I didn't get to meet, all of whom survived or escaped and lived to tell. All of them. My whole family story is a history from the Holocaust to revival.
Yosef passed away when I was just 4. I know his story, coming to Israel from Poland as a teenager before the war to build the land while his entire family perished and never made it to see the home he built for them with his hands.
I was lucky to have Shlomo, Pninah and Johnny by my side until I was 11 and 12. In the siren, I will be thankful for the stories of Shlomo, who lost his parents and six siblings in the concentration camps, who started a new life after the war in Eretz Yisrael as a teenager with not a single person in the world left. He dedicated his life to making people happy. I remember how funny he was, how every person at the table would laugh with joy from his jokes.
I would remember Pninah, after everything she has been through, when her family made it to escape to Russia but couldn't save her brother as he was burnt in his synagogue, her incredible story of heroism and how she dedicated her life to giving, volunteering and helping those in need — her smile, memories from her childhood. Her fridge full of magnets with names of cities from all over the world that people would bring to add to her impressive collection. I always think that a Detroit magnet would have looked good up there. And the secret candy stash she would have for me in the living room with the best candies from the Shuk in Tzfat.
I will remember my great grandpa Johnny, how he would listen deeply even though he lost most of his hearing and would speak in his Hungarian accent to Rachel, his life partner he found home with after his wife Eva passed away. How he survived a Death March from Hungary to Germany, how much he loved Eva and stories of the beautiful life they both had growing up in Budapest before the war.
The siren screams  for them, for their families, my families that never got a chance to grow but did so anyway.
Yom Hashoah is the 24 hours where I made myself watch the movies, hear the testimonies and ceremonies. Just remember. Because in Israel, on Yom Hashoah or any other memorial day, you remember.
For these 24 hours, all channels on TV close their regular services. Some will screen Holocaust films, documentaries or news about the disgraceful situation in which the survivors lived. Those that don't would respect a black screen — no commercials, no advertising, no reality shows, and the songs and programming on the radio is relatedto Holocaust.. The restaurants and movie theaters close, and there won't be concerts, sports or any shows.
The people? All the people stop their cars in the middle of the busiest highway, step aside and stand for the siren. I knew how to stand for the siren before I even knew how to walk. No one gets married, celebrates their birthday, or anything else.
And every high school would take its seniors to Poland — "The journey to Poland," as we call it — to visually see and set foot in the places where our brothers and sisters were exterminated in the most terrible ways humanity has ever known.
Again. You remember. Every year, I need to know more. I want to, but I'm also afraid to hear these stories and understand they are real.
This year, I'm so scared of my first Yom Hashoah abroad.
Because here, thousands of miles away, the TV will still broadcast the same shows, same sportsbook commercials, and new drinks at Wendy's. The radio will still play the top hits instead of poems from the war. People will go to the movies, eat in restaurants and the Tigers will still play their next game. The news will be the same. Teople will get married, celebrate, and the highway will keep flowing. There won't be a siren. There won't be a sign telling me —  or to any of us — to remember. And this scares me like hell.
How are we going to remember the Holocaust in 2072?
This question is your siren, your sign to remember.
We are fortunate to live in a time where the memory is still alive, where Holocaust survivors are still here to tell their stories — stories we need to carry with us for life.
Where will you be on Yom Hashoah in 2072? I don't know, but on Yom Hashoah in 2022 and 2023 and 2024 take a story or two with you. This is the time because we need to remember, now and forever.
---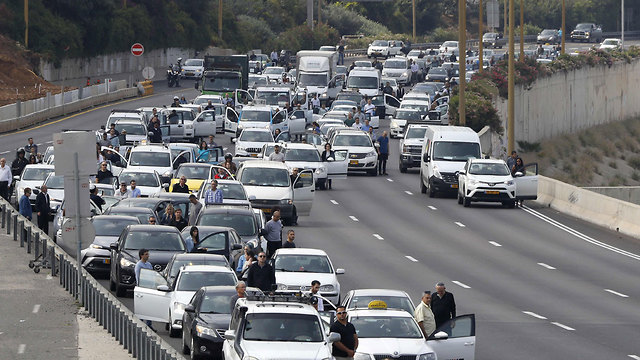 Captions:
Yom Hashoah siren in Israel
When Arie (Johnny) was finally released from the concentration camp by the US military at the end of the war, he was taught to photograph, and he photographed their journey of freeing the people in the camps. When he got to Israel, He opened a photography studio, "Photo Arie," and his love for the camera stayed forever.

Yossef Nir, for me, is the face of Israel and Zionism. With the biggest love for the land. And for his great grandchild.
Pnina and Slomo as activists in the Rotary Organization for humanitarian service in communities worldwide. Pnina was The Israeli president.