This story originally appeared in The Insider.
---
Life is Just a Bowl of Cherries...
Heard this sunny saying before? It's the lyric of a 1931 song popularized by such standout performers as Ethel Merman, Judy Garland and Doris Day. It means life is pleasant and full of enjoyment.
I don't know about you, but when I see beautiful, juicy, dark cherries come into season, I'm feeling pretty joyful. Here in California, cherry season is already in full swing. It will begin in Oregon and Washington in early to mid-June, and will get rolling in the midwest in late June or early July. The U.S. is a strong second to Turkey in growing the most cherries in the world.
I have a particular affinity for cherries. My home state of Michigan grows 40 percent of this country's tart cherries. There are cherry stands dotting the northern tier of the Lower Peninsula during July. We Michiganders can't get enough — dried cherries are featured in many desserts, salads and entrees.
The summer before college, I eagerly visited a cherry farm in Traverse City where a friend's family owned and operated one of the largest cherry farms around. (It's now a wonderful golf course. You never know what life brings you.) He took us on a tour and showed us how they picked cherries. The experience was so surreal that I remember it to this day. They would lay tarps down around the trees. Then a hydraulic tree shaker would go into action. The cherries rained down onto the tarp where they were dumped into trucks. Out here in California, they are picked by hand as migrant workers begin in the south and work their way north as the next cherry crop ripens.
At the Bay Area Fishman Family Compound, in fall 2021, my sisters and I decided to put in an orchard of various fruit trees, one of them a cherry tree. Last week was our first harvest. Don't get excited: we had one cherry! It was as delicious as it was laughable. We soon found out that it takes three to five years before a tree begins to produce, so this shouldn't have come as a surprise to us, but what did we know?
Last Wednesday, I had the pleasure of visiting the Borello U-Pick Cherry Orchards in Gilroy and Morgan Hill, in the south San Francisco Bay area. It was a sweltering, unseasonably hot day, even at 11:00, but the promise of hanging out among the gorgeous cherry-laden trees made me forget how sweaty I was. Mary Borello, one of the owners, met me at the entrance, as she guided cars down the dirt path between trees to get to the picking area.
The Borello Family Farms (or ranch, as they call it) go back to 1925, when Sebastian Borello arrived from Italy and began a cherry business that has since been run by generations of Borellos. It is now in the capable hands of Mary and her husband Chris, Sebastian's great-great-grandson. Chris's grandfather Johnny still comes to the orchards every day at age 92.
The family began with one orchard and now has five, totaling over 230 acres that yield 8,000-10,000 pounds of cherries in a good year. They raise Bings (the gold standard of sweet cherries), Lapins, Sweethearts, Corals and Raniers (the yellow ones with a rose blush).
I had to give it a lot of thought as to which cherry recipe I would make. I didn't want to go the pie or tart route. Cobbler? Nah. Crisp? Nope. How about an unfamiliar dessert? I chose Cherry Clafouti. Originating in France in the 1800s, Clafouti is a dessert consisting of a layer of fruit topped with batter and baked. This delicacy has a lot going for it. Besides being delicious, it is light to eat, you can change it drastically by choosing a different fruit such as raspberries, blueberries or blackberries. And it's simple to make — basically a cross between custard and a pancake.
I hope you try this easy dessert and enjoy the fruits of the season. Let us know how your Clafouti turns out. And let's hope that the Fishman Family Compound's modest cherry yield will someday be as bountiful as the Borellos!

Cherry Clafouti
Yield: 6-8 servings
1 lb. fresh ripe cherries, pitted and drained
3 lg. eggs
3/4 c. flour
1/2 c. sugar + 2 Tbsp., divided
1 Tbsp. vanilla
pinch of salt
1 1/4 c. milk
Confectioners' sugar for garnish
Preheat oven to 350°. Spray a 2 1/2 quart shallow casserole with pan release. Reserve.
In a medium bowl, whisk together the eggs, flour, 1/2 cup sugar, vanilla, and salt until smooth.  Slowly whisk in the milk so as not to create lumps.
Spread the pitted cherries all over the bottom of the casserole.  Sprinkle with the remaining sugar.  Pour over the custard mixture.  Bake, uncovered, for 30-35 minutes until the clafouti is set.
Serve warm or at room temperature.  Sprinkle with confectioners' sugar before serving.
Clafouti can  be made ahead, refrigerated, and rewarmed.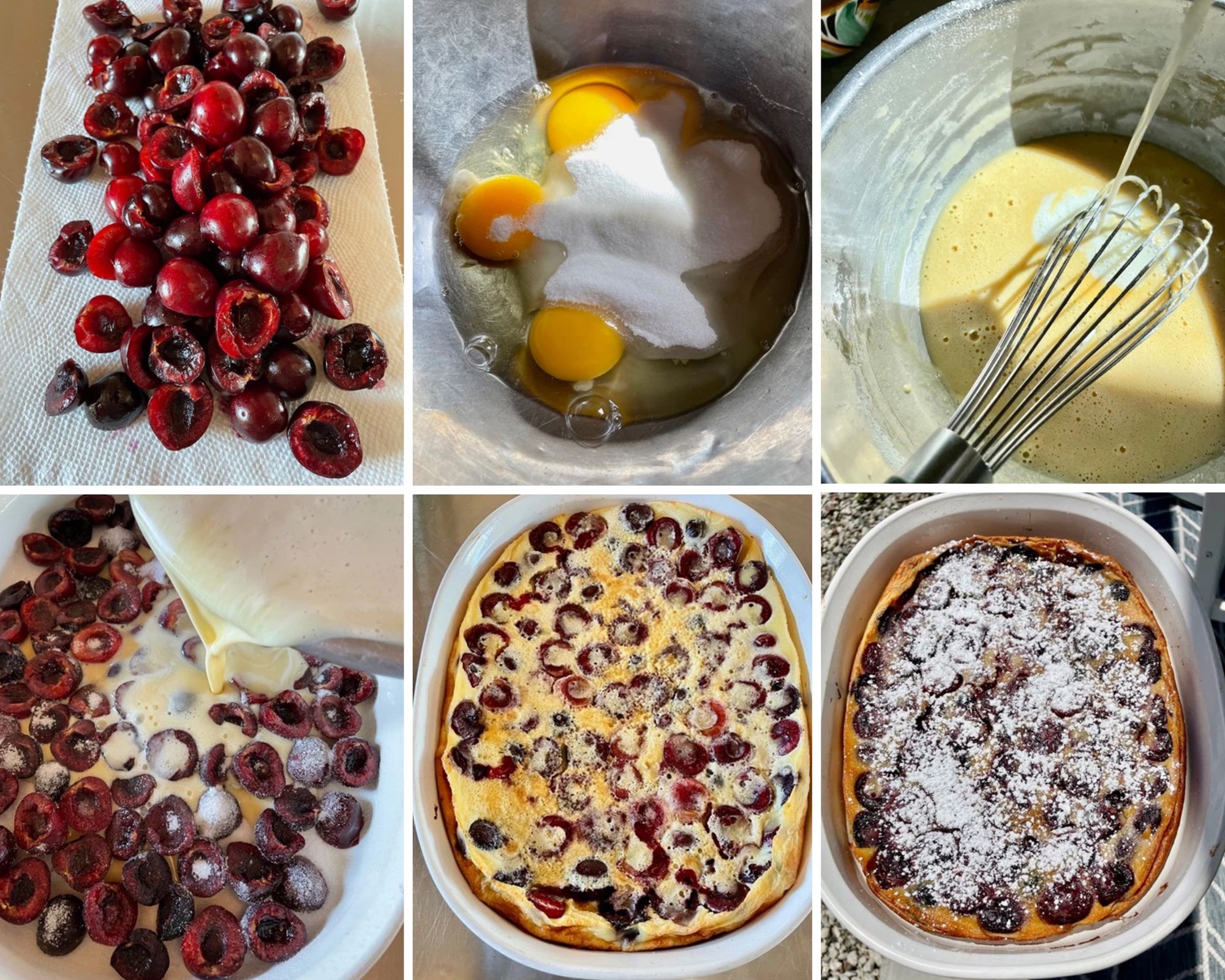 ---
Bonnie Fishman attended the Cordon Bleu Cookery School in London. Later, she owned and operated Bonnie's Patisserie in Southfield, Mich. and Bonnie's Kitchen and Catering in Bloomfield Hills, Mich. She has taught cooking for over 35 years and created hundreds of recipes. She is now living in Northern California.