דַּע,
מֵאַיִן בָּאתָ
וּלְאָן אַתָּה הוֹלֵךְ
וְלִפְנֵי מִי אַתָּה עָתִיד לִתֵּן דִּין וְחֶשְׁבּוֹן.
Know from where you come, and where you are going, and before whom you are destined to give an account and a reckoning.
One of the teachings in Pirkei Avot is to know from where you come. For tens of thousands of "expats" now living in locations from New York City and Melbourne to Beijing and Jerusalem, the place from where they come is Detroit.
Each fall, former Detroiters have come back home for a three-day conference called the Detroit Homecoming, now in its eighth year. The three days offer a dynamic and immersive opportunity for expats to see their hometown in a new light. This year's event included a behind-the-scenes look at DLectricity in Midtown and BLISS, produced by new Michigan Opera Theater Director Yuval Sharon, which "replays three sublime minutes of The Marriage of Figaro with the same cast and same orchestra without pause for twelve hours." Themed dinners showcased new restaurants and historic homes, including Bas Bleu, a new space on Ferry Street envisioned by Nancy Tellem.
Visitors to this event received neighborhood tours learning the names and stories behind prominent streets in Midtown, explored plans for the Detroit Riverfront's future on a guided tour, saw the cutting-edge mobility technology coming out of Corktown, and heard from exceptional speakers, including Ford CEO Jim Farley, authors, journalists and policymakers.
As in past years, several members of the Jewish community gathered at a reception to reflect on our heritage and ways to give back to our hometown. White House Senior Aide Gene Sperling, the point-person for the administration's Coronavirus Relief Plan, talked about his upbringing in Michigan and how it inspired his years in public service.
Dr. Larry Brilliant recalled a religious school debate he had with Rabbi Robert Syme. Syme wanted him to make the case for science or religion as paramount and 12-year-old Larry refused. From Temple Israel and Mumford, Larry went on to help eradicate Smallpox; co-found the Seva Foundation, which has given sight back to three million blind people; and launch google.org.
Previous honorees include National Geographic Publisher Susan Goldberg, Harvard President Larry Bacow, Broadway Producer Jeffrey Seller, Developer Stephen Ross, Economist Jeff Sachs and Roots founders Don Green and Michael Budman.
Michigan Supreme Court Justice Richard Bernstein shared remarks and Congressman Andy Levin discussed how much the city meant to Uncle Carl. Senator Levin attended each of the prior receptions going back to the inaugural year.
Rabbi Yisrael and Devorah Pinson hosted the gathering at the Chabad of Greater Downtown Detroit. Abe Feder, a cellist at the DSO performed and artwork made at the Farber Center was on display. Each expat attendee received a Detroit Mezuzah, created by Pewabic Pottery, and a chocolate chip challah from Dakota Bread.
Since the last gathering, Detroit Expats continued to make the news; one more notable example is Oak Park's Paul Milgrom received the 2020 Nobel Prize in Economics for his work on auction theory.
On the warm evening last month, it was easy to recall the song September by Earth, Wind and Fire, written by Allee Willis, of blessed memory. Perhaps the lyrics from another Willis chart topper – "I'll be there for you, 'cause you're there for me too" – capture the promise and possibilities of the Jewish Detroit diaspora.
---
The Jewish Expat event was supported by Jennifer and Dan Gilbert, the Max M. and Marjorie S. Fisher Foundation, the Mandell and Madeleine Berman Foundation and the Tauber Family Foundation.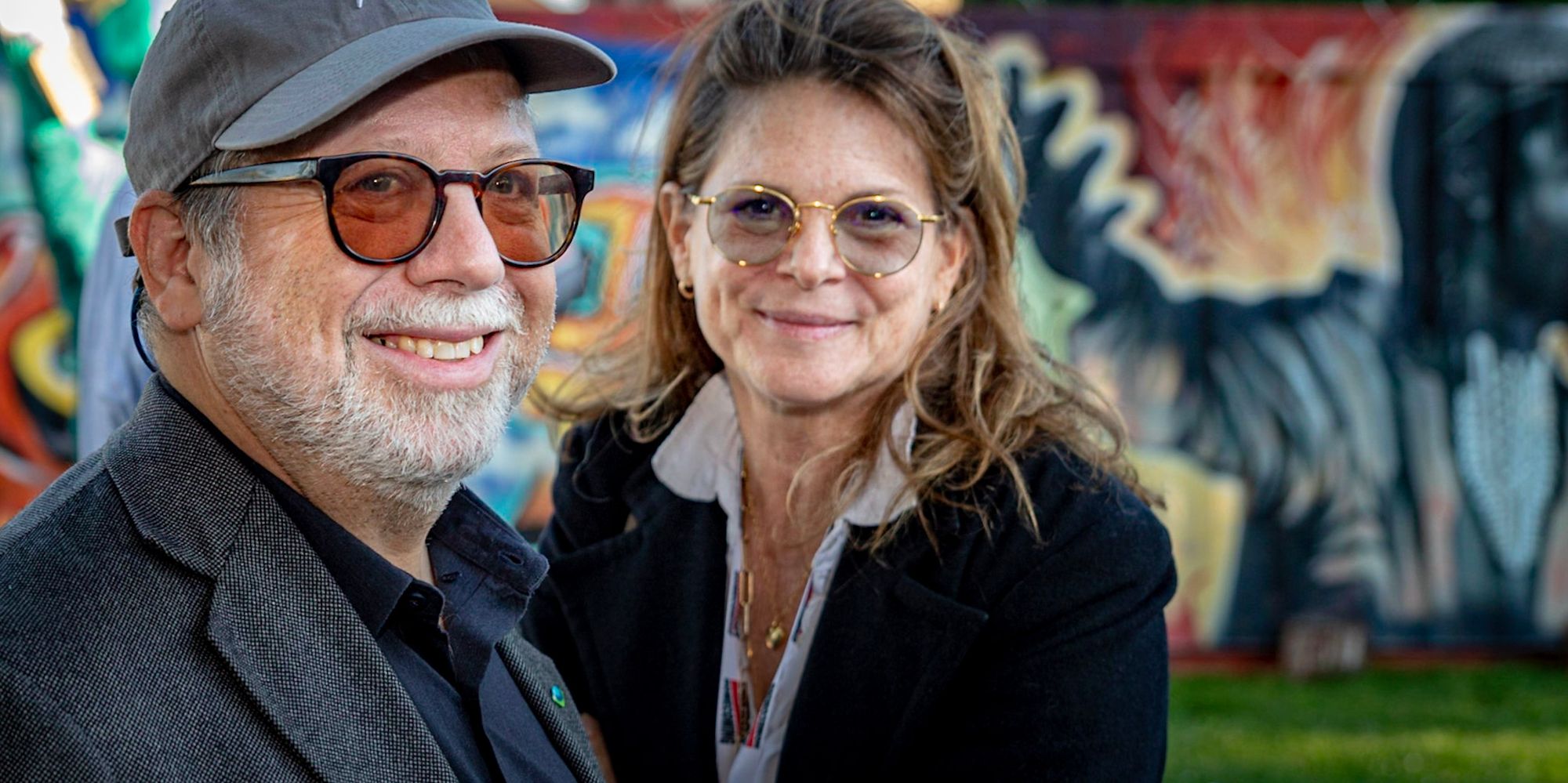 Rick Sperling, founder of MOSAIC, and Amy Nederlander, founder of L!FE Leaders.
Michigan Supreme Court Justice Richard Bernstein speaking with Detroit Expat and Philanthropist Lisa Applebaum and Howard Handler, President of 313 Presents, Detroit's premiere live event company. Handler returned "home" to lead 313 Presents two years ago.
Gene Sperling shares a story from his first stint in Washinigton, as an intern for Senator Carl Levin.
Sigal Hemy, Director of the Michigan Jewish Women's Foundation, and Lisa Soble Siegemann, Program Partner of the Max M. and Marjorie S. Fisher Foundation.
Community Leader Gilda Jacobs surrounded by Congressman Andy Levin and former Congressman Sandy Levin.
Nu?Detroit's Ben Falik conferring with former Congressman Sandy Levin.