"There's an old Jewish saying," Arn Boezaart tells me, "that you die twice — once when you pass and again when people forget your name."
Sitting at a table with two ornate sterling silver trays, Boezaart spoke of a special connection to his first stage role. He plays the mayor of the little Dutch town of Veldhoven in the play Old Heart on stage at Muskegon's Overbrook Theater May 20 and 21.
A Dutch native and retired Grand Valley State University executive, Boezaart grew up in Rotterdam, shortly after the war that destroyed much of his hometown.
In 1942 his parents witnessed as their Jewish neighbors were forcibly removed and sent to a Nazi death camp. Shortly before being forced out of their Dutch homes and sent on a freight train to Germany, they entrusted Boezaart's mother Maartje with their heirloom sterling silver trays.
"After this family was summarily deported, Nazis troops tore up the family's home searching for valuables," says Boezaart. "They also visited our house to make sure we weren't hiding any of that family's treasures. Doing so could have led to immediate arrest and worse. Luckily my grandmother's big dogs scared them off."
The neighbors never returned to their home at Zoutziederstraat 96b (Saltmarket Street) to reclaim the precious trays and are presumed to have perished in one of Hitler's death camps.
"Our family brought the trays with us when we immigrated to the home of Grand Rapids Dutch Reformed sponsors. My mother always kept the trays on display in a cabinet as a memorial to 12,000 Jews deported from Rotterdam to their deaths — including 689 children under the age of 12."
After his parents died, Boezaart brought the silver trays to his own home in Spring Lake.
"My goal is to find the right place to donate them as a memorial to those lost in the Holocaust. I am still struggling to find the identity of this family that entrusted my mother with this silver."
As Old Heart begins, Boezaart's mayor pairs Sarah van Praag, a Jewish translator who has just emerged from four years of hiding from the Nazis with African American Army Lieutenant Tom Johnson. He was part of the Allied force that liberated Southern Holland in the fall of 1944. Johnson and van Praag's job is to smuggle food to Dutch starving in northern cities still behind Nazi lines during the Hunger Winter of 1944-45.
Sixty years after the war, Johnson returns to the Netherlands to search for van Praag, the love of his life.
Stage veteran Ed Gaines, a retired Detroit police officer and Ford employee, reprises the role of Lieutenant Johnson following last year's Detroit premiere.
"It's amazing how this play links to my own family's history," says Gaines.
"There is no question that my dad, a Cass Tech and Western Michigan State grad, would have won the Gold in the 1928 Amsterdam Olympics, eight years ahead of Jesse Owens's historic victory in the 1936 Berlin Olympics. He was set to compete in the long jump and the 880 relay when his mother insisted he stay home. She was convinced that the Netherlands was far too dangerous for a black man and he reluctantly withdrew from competition to remain in Detroit.
"The irony of this mixed-race love story is that my character is convinced that bringing a Jewish woman home from the war to settle in post war Detroit was dangerous. On stage, I argue that racism and segregation would defeat us in my hometown. In some places, mixed marriages were outlawed."
At home in Detroit, Gaines memorializes his dad's astounding athletic career with plaques and photos of his many awards, including a certificate welcoming him to the American Olympic Team he never joined.
In Spring Lake, Boezaart is still struggling to discover the names of the Zoutziederstraat neighbors lost to Hitler's holocaust:
"The Rotterdam Jewish community has made a huge effort to memorialize the names of those hundreds of children lost, inscribing their names and ages on stainless steel tablets. My hope is that one day I can honor the names of our neighbors who had to walk, small suitcase in hand, from their homes to a tram that took them to a deportation warehouse. I'm pretty sure they had to pay their own carfare."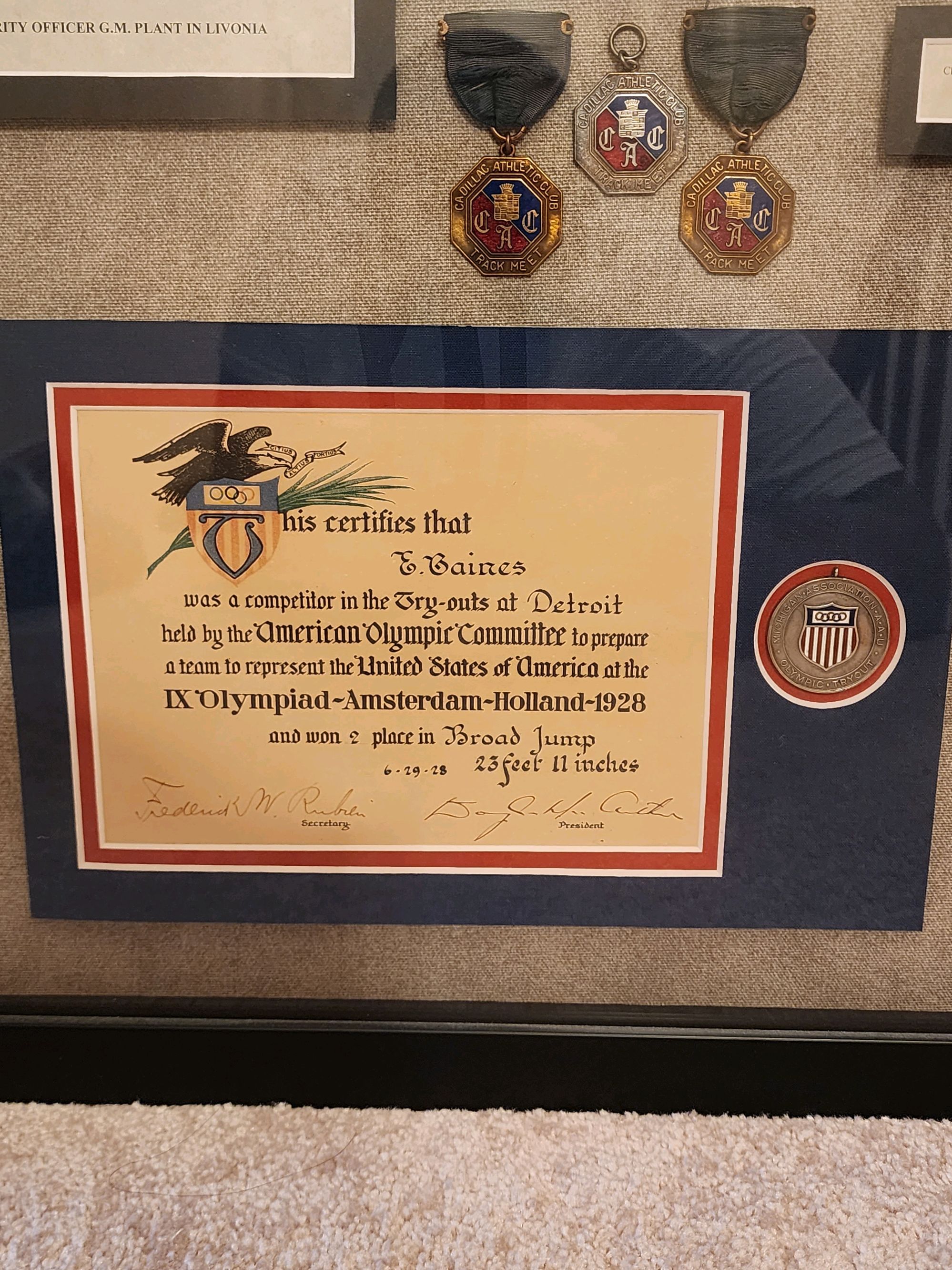 ---
Old Heart, directed by Kirk Wahamaki and Leslye Witt, is on stage at Muskegon's Overbrook Theater May 20 (7:30 p.m.) and May 21 (2 p.m.) The play was adapted from Peter Ferry's book by Roger Rapoport. For more information visit rogerrapoport.com/old-heart or rogerdrapoport@me.com It will play in Vero Beach, Florida, in 2023 and plans are in the works to bring this drama to the Netherlands in 2024.