On April 2, 2021, University of Michigan Regent Jordan Acker made the following statement during a special meeting to vote on whether to censure Regent Ron Weiser. See the Michigan Daily for context, the full video and Regent Acker's statement.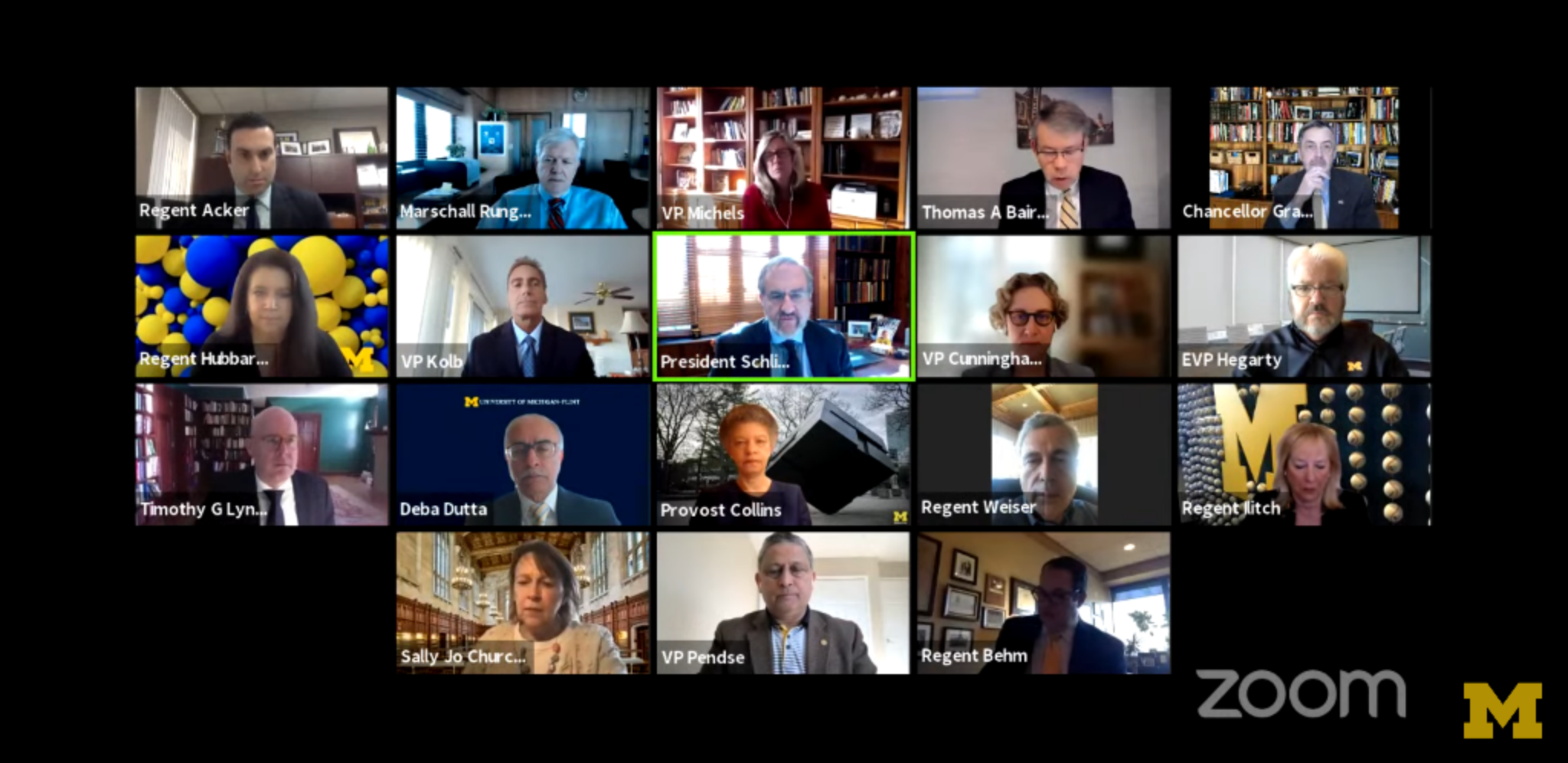 When it's all said and done, the University of Michigan, in all of its glory, comes down to one defining central mission: we are here to give our students the tools to be the leaders of tomorrow.
Leaders. We say it in our fight song because leadership is part of our identity.
The University of Michigan stands to help nurture these leaders of our future to be their very best.
To do that, to serve this community demands wisdom from us. It demands that we divorce ourselves from the dangerous partisanship tearing our country apart at the seams.
If any of us leading this university fan the flames of hate and division, that is a betrayal of our work and everything the University of Michigan stands for.
Tragically, one of us has fanned those flames and betrayed this community.
We must confront that dereliction with the urgency of this moment.
On October 8, 2020, 13 men were arrested in a plot to kidnap and execute the Governor of this state, Gretchen Whitmer.
Last week, as we began our public meeting, three men were beginning a preliminary hearing in Jackson County. That hearing was empanelled to determine whether the men would be bound over for trial for attempting to kidnap and murder our governor.
We found out later that at that moment Regent Weiser was en route to address the North Oakland Republican Party.
By itself, Ronald Weiser missing the meeting was not momentous. But his remarks that night in North Oakland are devastating.
Speaking to a partisan crowd that night, Regent Weiser engaged in dangerous rhetoric.
Participants spoke harshly of our own distinguished alum, Congressman Fred Upton. They attacked Congressman Peter Meijer, who bravely served our country in Iraq. Congressman Meijer's father Hank, as many of you know, received an honorary degree from the University of Michigan in December 2019, introduced by Regent Ron Weiser.
But what Regent Weiser said that night was much different. In his remarks, Regent Weiser referred to Governor Whitmer, Attorney General Nessel, and Secretary of State Benson as "witches." Regent Weiser invoked the prospect of "burn[ing them] at the stake." Responding to a shouted remark bashing our state's elected leaders, Regent Weiser responding by referencing assassination.
A leader of the University of Michigan joked of assassination.
It would be easy to chalk this up to a misstatement. But Regent Weiser's remarks that night were no accident. These remarks were politically motivated. That these things happened after the events of January 6, 2020, and the attacks on our Governor make his language all that more appalling.
Regent Weiser's words contrast with the courage of the late Senator John McCain. When confronted by an irate voter calling his opponent a terrorist, Senator McCain could have indulged her, he could have fed the wellsprings of hate. Instead, he pushed back. That day McCain said, "No ma'am. He is a good man and a good citizen that I just happen to have disagreements with."
Regent Weiser's words contrast with the courage of two of the men who were under attack as he spoke. Reps. Upton and Meijer were two of the 10 brave souls in their party who voted to impeach the former President for inciting the Capitol riot. For their courage, the crowd Regent Weiser addressed called them witches.
Regent Weiser had a choice that night.
He could have been the leader we ask our own students to become. He could have stood against cruelty and violence and lies and set an example our students could follow into their lives when they confront the forces of division.
Instead, he indulged that hate, he fed it as an arsonist feeds a small flame.
Instead of being a leader, he did not just follow but coaxed the crowd into a dark place.
Instead of patriotism, Regent Weiser chose cowardice. His words irreparably harmed his reputation at this institution.
I don't say any of this with satisfaction, but with profound sadness.
Regent Weiser has given deeply of his time, his energy, and his resources to this university. None of us deserves to be damned only for their worst moment or one lapse in judgement.
But when given the chance to say sorry, Regent Weiser refused for two days before offering a vague, limp apology.
Since then, he has accused others of lying. He has claimed outrage at his remarks is some insidious attempt to "cancel" him. Accountability is not cancellation, and the reason we are here today is because Ron Weiser refuses to be accountable for his actions.
Regent Weiser, you should be sorry for your behavior. What you said contributed to the culture of violence. The wounds of the plot against the governor are still fresh. Your words could have killed somebody.
You should be sorry because you, as a leader, must know the power of words. That what we say can give permission to others to act on our words, to commit violence from them.
I believe in forgiveness for you and anyone else.
But there is no room on this Board for those who advocate violence. Make no mistake: that is precisely what you did.
You have forced this Board to take this painful and permanent step, to condemn one of our own.
I hope that you will take steps to fix the damage you've caused to our community, to our campuses, to our Board. But that requires real contrition and acknowledgment of what you did wrong, and then listening to those you've wronged. It is impossible for you to do so while remaining on this board. You have lost all credibility and moral leadership.
I hope that next time you can show the courage of John McCain, Fred Upton, and Peter Meijer. And I hope you seek repentance and forgiveness for your behavior.