When it comes to schools, politicians of all stripes will wax eloquent about the virtues of local control, until the inconvenient truth of it all gets in their way. This hypocrisy — saying one thing, but doing another — has been on shocking display right here in Michigan. As one teacher put it, "They're all about local control. Until they aren't."
For parents of school-aged children, it has been nothing short of chaos. One parent confided that she's afraid to check her email each morning, not knowing whether her child's school building will be open or closed, or whether the classroom will be in quarantine from one day to the next.
It has been disorienting and disruptive for well over a year. By now, though, school districts have been implementing the "return to school plans" they were required to prepare before the end of the last academic year. In metro Detroit, after the mid-winter break, many districts were utilizing a hybrid model, bringing back younger and at-risk students for more in-person learning and moving more incrementally with older students, particularly high school students who move more frequently between classes and within their school buildings.
To a large extent, and up until very recently, the locally-developed plans were working. As long as infection rates continued to decline, nearly every school district planned to bring all students who wanted to return for in-person instruction back into school the week after spring break.
That would have been yesterday.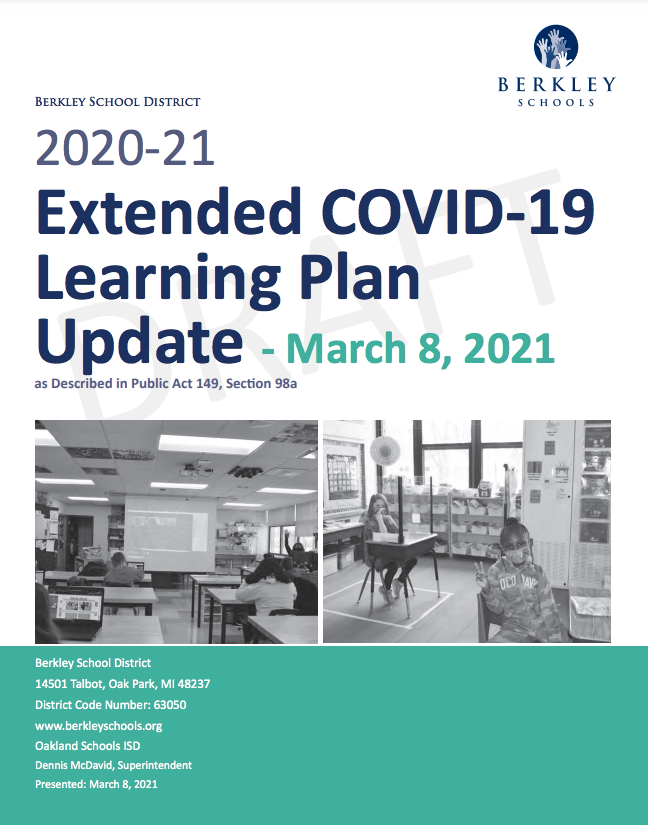 But that isn't what happened.
The virtue of local control was steamrolled by the vice of partisan warfare, with little regard for its casualties … our school children.
It's no secret that the majority in the Legislature has been critical of Governor Whitmer's handling of the pandemic in Michigan. She's been called a dictator and a witch — and was the target of a kidnapping plot by domestic terrorists.
Legislators dragged her to court last spring over the use of emergency powers against a backdrop of PPE shortages, misinformation from the White House and uncertainty about vaccine development. Still, a ruling last fall by the Michigan Supreme Court that went in their favor did not satisfy them.
Their desire to inflict political pain on a Governor they desperately desired to weaken became all too apparent when this past month they began tying supplemental spending bills to other bills that would further limit the ability of the state's public health director (appointed by the Governor, with the advice and consent of the State Senate) to manage the pandemic.
The Governor vetoed some of these bills, and money that our counties, cities and local communities could really use right now is being held in legislative limbo. In fact, the majority in the Michigan Legislature has been holding hostage millions of dollars that were appropriated last December by the federal government as they continue to wage political warfare.
It all came to a head around mid-March when they conditioned the appropriation of critical funding for many school districts to the offering of in-person instruction for all students for a minimum of 20 hours per week, beginning March 22.
In doing so, they were all but taunting the Governor to veto funding to schools. Which she couldn't. And didn't.
And once again, school districts were left to scramble and clean up the mess created by politicians for whom "local control" are just words and nothing more.
The folly of this plan could not be more clear. Infection rates around the state have quadrupled in the last month as Michigan has become a national hotspot. That is not the kind of national recognition that any state wants to have. Additionally, hospitalization rates among parents of school-aged children are on the rise.
It certainly makes you wonder if forcing schools to abandon their local plans and rush to open their doors on some arbitrary date for some arbitrary amount of time had anything to do with the best interests of Michigan families.
We may never know because we don't have a playbook for how to operate during a global pandemic. But we do know that actions have consequences. I hope that parents and students remember that much of the instability in our schools this year was caused by the Legislative majority and their use of school funding as a political weapon.
If this hasty, hypocritical assault on local control was really about making policy in the best interests of Michigan's children, then we should hold the legislative majority accountable for proven strategies including an equitable school funding formula, universal pre-K, increased funding for special education and at-risk students, eliminating high-stakes standardized testing, and full financial transparency for the wholly unregulated charter school sector.
Or just have the decency to admit what is already obvious to the kids. They know a bully when they see one.
---
Photo by Phil Roeder from Des Moines, IA, USA, CC BY 2.0 https://creativecommons.org/licenses/by/2.0, via Wikimedia Commons
Extended COVID-19 Learning Plan Update - March 15, 2021
as Described in Public Act 149, Section 98a