I never thought that lacing up my hockey skates again would lead to this. I played growing up. I wasn't very good. (Not being modest.) When I grew out of my equipment, I retired from the game, rather than spending my Bar Mitzvah money on new gear.
Hockey can be magical. Hockey equipment can be cost prohibitive. Rediscovering that magic after a decade off the ice motivated me to share the game with everyone I could, regardless of cost.
In early 2019, I started playing hockey with a few guys who came to be known (to ourselves at least) as "The Duster Line." We aren't in a league. We're just a ragtag group that enjoys playing the game in a way that can be inclusive to players of all skill levels.
No one yelling at you to get back on defense. No one is chasing you down at full speed. No one is checking you into the boards. No one is pretending they're in the NHL. Creating an environment that is fun for all who are on the ice makes the personal experience that much more enjoyable.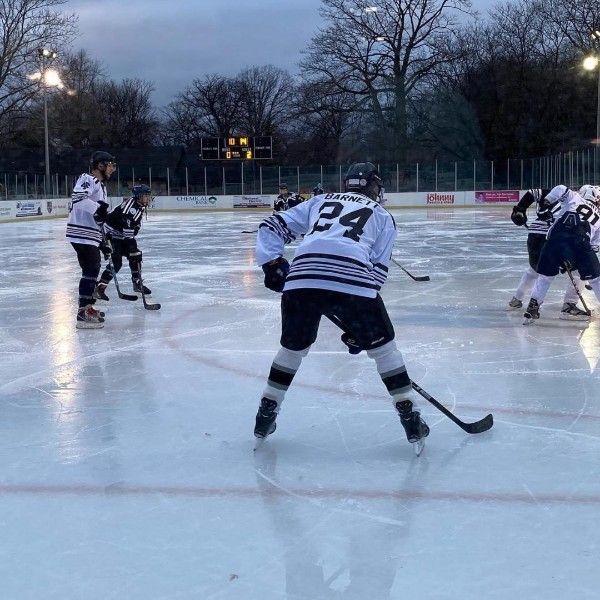 This positive dynamic on the ice translated to friendships outside of the rink. Through my skates, I was fortunate enough to meet my future Urban Hockey Foundation (UHF) co-founders: Michael Baitinger, Evan Rosenfeld and Anthony Carollo.
Michael is the Youth Hockey Manager at Clark Park in Southwest Detroit. It was his idea to create a nonprofit organization to help grow the game of hockey at a grassroots level in Detroit neighborhoods. It seemed like a logical extension of the positive experiences we'd had growing up. Even as our skates have become less swift and our legs more sore, we want to be able to share those experiences with others.
Michael, Evan, Anthony and I started working on the UHF in early 2020, just in time for the zamboni, along with practically everything else, to come to a screeching halt.
Of course, hockey has been part of life in Detroit for generations.  This includes people in the minority communities growing up far from the frozen ponds in the suburbs. A group of active neighbors created the Clark Park Coalition in 1991 and the organization has kept youth hockey going strong, even as other rinks and programs shuttered. Clark Park manages to offer hockey to neighborhood kids at no cost and provides all the equipment they need. Rather than borrowing it, the skates, stick and gear are each kid's to keep.
Clark Park has laid down ice in the rink year after year, undeterred by mayoral scandal, municipal bankruptcy or anything else. Until Covid.
Since The Urban Hockey Foundation officially launched last October, we have been working to support the safe return of youth hockey to Clark Park and beyond. We have raised just over $6,000 to help with maintenance while the rink is mothballed. We have also collected equipment donations and been developing a plan for kids who really love the game (and are probably already better at hockey than we are) to keep playing at other rinks beyond the outdoor season.
Just like a rink itself, hockey can seem cold and remote if you're on the other side of the glass. But once you get on the ice, it is as warm and welcoming as a cup of cocoa. Through funding, mentorship and outreach, the foundation hopes to make hockey — objectively the greatest sport known to man — something enjoyable and enriching for everyone.
Including you! We have an equipment drive at Clark Park on May 15 and 16. Or you can fill out this volunteer form. For more on the Urban Hockey Foundation, or if you would like to make a donation, or purchase a board advertisement, please visit urbanhockeyfoundation.org.
We also sell board advertisements for the park. If your business would like to purchase a board advertisement, please contact us for details.